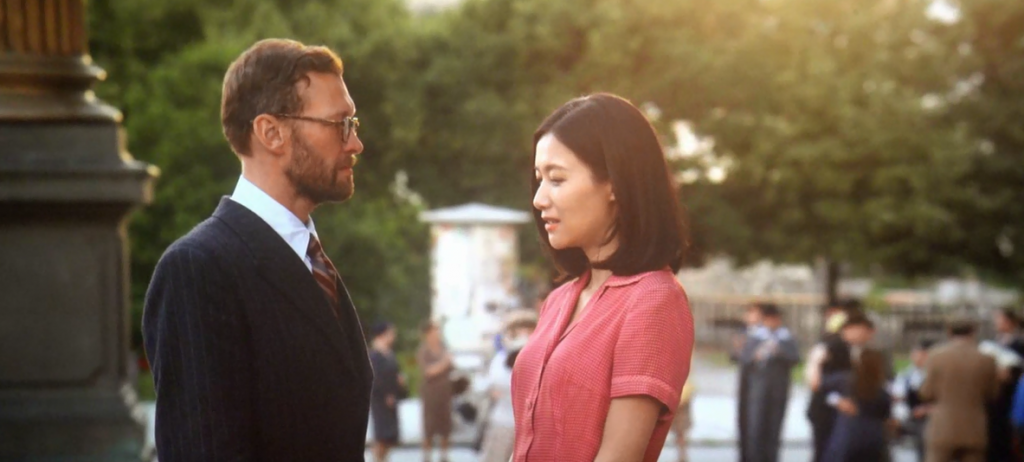 Prague is a perennial favorite of American university students trying to satisfy their endless wanderlust. It is indeed a beautiful city, and it is there that Somewhere Only We Know (有一个地方只有我们知道) finds Jin Tian (Wang Likun of Ex-Files) discovering a letter written by an old lover to her grandmother Chen Lanxin (played in her own time by the famous director of the film, Xu Jinglei). While in Prague, Jin Tian sets out to uncover the truth behind this previously-unknown affair. At the same time, she's also trying to "rediscover herself" (like many American sorority girls) after her fiance left her. To this end, she meets a cellist named Peng Zeyang (Kris Wu of EXO-M fame) who plays in a local wedding band and has a troubled family situation.
It was particularly nice to watch a film set in a non-Chinese city that focused on overseas Chinese and their adventures — prior to the Second World War, a number of migrant workers emigrated to the Czech Republic and, following the fall of the Soviet Union, some Chinese civil servants left their iron rice bowls to pursue lucrative trading careers there as well. The quick friendships made by the Chinese international students studying abroad in Prague remind me of the summer I spent at the London School of Economics, where I made friends with numerous other Chinese internationals pursuing their own global variant of the Chinese Dream. I was thus very excited when I finally got my hands on a copy of Somewhere Only We Know.
However, what could have been a great story detailing an investigation of a long-lost romance coupled with the development of a contemporary one quickly dissolved into disorganization and a rather dull execution. While Somewhere Only We Know hit it off with a great start involving a rather hilarious first meeting between Zeyang and Jin Tian, the later developments in their relationship lacked the depth of a true romance drama. Certainly, I am disappointed that Xu Jinglei, who brought us hits such as Dear Enemy and One Step Away, appeared to not be able to decide whether she wanted to focus on Lanxin's love story in the 1940s or Jin Tian's story in the present day. In the end, it felt like none of the characters had the opportunity to truly develop as individuals, and the romance between both Lanxin and her lover, and Jin Tian and Zeyang, was poorly executed. The rule of "show, don't tell" certainly should apply well in a drama film that is meant to elicit an emotional response and connection from the audience, but unfortunately Xu only told and didn't show.
Xu Jinglei is indeed a great director, and that probably helped Somewhere Only We Know hit number four in 2015's China box office rankings (it was a major hit over Valentine's Day in China). However, I fear that Somewhere Only We Know may be forgotten years from now, as it was neither a good nor a bad film — it simply was another love story that re-iterated a recycled plotline that did little to create a lasting impact on its audience.
---
Somewhere Only We Know (Chinese: 有一个地方只有我们知道)—China. Directed by Xu Jinglei.  First released February 2015. Running time 1hr 47min. Starring Xu Jinglei, Kris Wu, and Wang Likun.