Thanks to movies like The Hangover Part II and countless social media postings from rambunctious vacationers, the West often sees Thailand through the lens of an exotic party locale — chaotic, hedonistic, and replete with gender-bending ladyboys ready to "love you long time". Cemetery of Splendour, however, offers a vastly different look at the country.
Premiered in 2015 at Cannes, Cemetery of Splendour is Thai independent filmmaker Apichatpong Weerasethakul's seventh full-length feature. Weerasethakul is like a Thai version of China's Jia Zhangke. Both he and Jia eschew their respective countries' mainstream film industries in favor of independent artistry; they both tell evocative narratives set in relatively marginal parts of their homelands, they both repeatedly deploy a go-to muse actress across multiple films (Zhao Tao for Jia, and Jenjira Pongpas for Weerasethakul). Like Jia, Weerasethakul's films see little domestic fanfare and gain most of their exposure through the international festival circuit; perhaps Weerasethakul's only exception to that rule is his 2010 piece Uncle Boonmee Who Can Recall His Past Lives, which garnered a degree of acclaim in both Thailand and abroad. A Thai Culture Ministry official was once quoted as saying: "Nobody goes to see films by Apichatpong. Thai people want to see comedy. We like a laugh."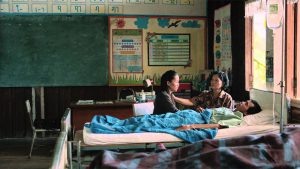 Certainly, Weerasethakul's films aren't for everyone, and Cemetery of Splendour is no exception. It's a limpid, stirringly peaceful production that maximizes artistic value over entertainment. Set in Thailand's northeast Isan region, far from the hustle and bustle of Bangkok, it tells the story of a temporary hospital filled with soldiers afflicted with a strange sleeping sickness. Three characters lie at the story's center: Jenjira (played by Jenjira Pongpas), a volunteer caregiver; Itt, the soldier she cares for; and Keng, a medium the army and hospital hire to commune with the sleeping soldiers. All three lead mundane lives: they shit in the woods, they use online dating sites, they forget their phone chargers. They are silent, simple, and meditative.
Superstition is a constant theme in Weerasethakul's films — past lives (hey, it's called Uncle Boonmee Who Can Recall His Past Lives for a reason), spirits, temple rituals. In Cemetery of Splendour, Jenjira hears that the soldiers have have acquired their sleeping sickness because they were digging up a construction site that happened to lie atop an ancient cemetery of kings. Now, those spirit kings are harnessing the sleeping soldiers' souls to fight battles in a different world accessible only through the dreams Keng channels. The line between dreams and reality, between belief and fact, becomes blurry, in the least jarring sense of that word. Weerasethakul's shots are simple, his settings perpetually bucolic and devoid of diegetic clamor. Scenes move lazily by and Weerasethakul uses color to great effect, especially after the hospital installs color-changing sleep lamps to help the sick soldiers have more peaceful dreams.
All this may say something about Thailand's culture and politics as well. Another reason why Weerasethakul isn't horribly popular in his homeland is that many of his films are simply not shown there; the nation has relatively strict censorship laws and will arrest even foreigners who insult the royal family or the "pride of the nation". Thailand is "run by superstition", Weerasethakul said in an interview with The Guardian, and that makes people complacent, willing to accept authoritarians who themselves find solace in fortune-tellers. Indeed, with its subject of sleeping soldiers, Cemetery of Splendour doesn't exactly endear itself to Thailand's current military government, which took power in a 2014 coup. Though there are no direct critiques, the film could serve as an extended metaphor of or commentary on the country's present reality.
Consequently, Cemetery of Splendour will probably never be released in Thailand, as that would require approval from the government censorship board. Weerasethakul has stated that he would rather not show the film to Thai audiences than exercise self-censorship. Nevertheless – for us abroad, Cemetery of Splendour (and the other pieces in Weerasethakul's repertoire) are still available — breaths of fresh cinematic air that offer an artistic, alternative view into the Thai soul.
---
Cemetery of Splendour (Thai: Rak Ti Khon Kaen)–Thailand. Dialog in Thai (including Isan dialect) and minimal English. Directed by Apichatpong Weerasethakul. First released May 2015. Running time 2hr 2min. Starring Jenjira Pongpas, Banlop Lomnoi, and Jarinpattra Rueangram.