There's an aggressive war on drugs taking place in the Philippines under President Rodrigo Duterte's administration. With estimates of between 1.8 to 3 million Filipinos addicted to narcotics (out of a population of around 100 million), drug addiction is a serious epidemic in the archipelago nation. However, Duterte's heavy-handed tactics, including instructions to the public to "kill them [drug addicts] yourself," have spurred controversy over alleged human rights abuses.
Indeed, the crackdown on narcotics has cost many Filipino lives—civilians, drug addicts and dealers, and police alike.
It's this crackdown that inspired the Filipino blockbuster BuyBust, which depicts a sting operation gone wrong. Our protagonist is Nina Manigan (Anne Curtis), a member of an elite squad of the Philippines Drug Enforcement Agency (PDEA), tasked with capturing local drug lord "Biggie."
From the start of the film, we're treated to an incredibly realistic portrayal of the training that PDEA agents undergo. From mock-up building raids to live-fire drills, the training that PDEA agents receive would not be out of place for a military special forces team. Indeed, it's this military discipline that sets the PDEA apart from other police units in the Philippines—in the real world, generals of the national gendarmerie and Army itself have commanded the PDEA.
In BuyBust, Agent Manigan's team is stuck in a slum after a drug bust goes wrong, with hostile local residents and the drug cartel hunting them. At the same time, Manigan is trying to uncover the "Judas" who betrayed their squad.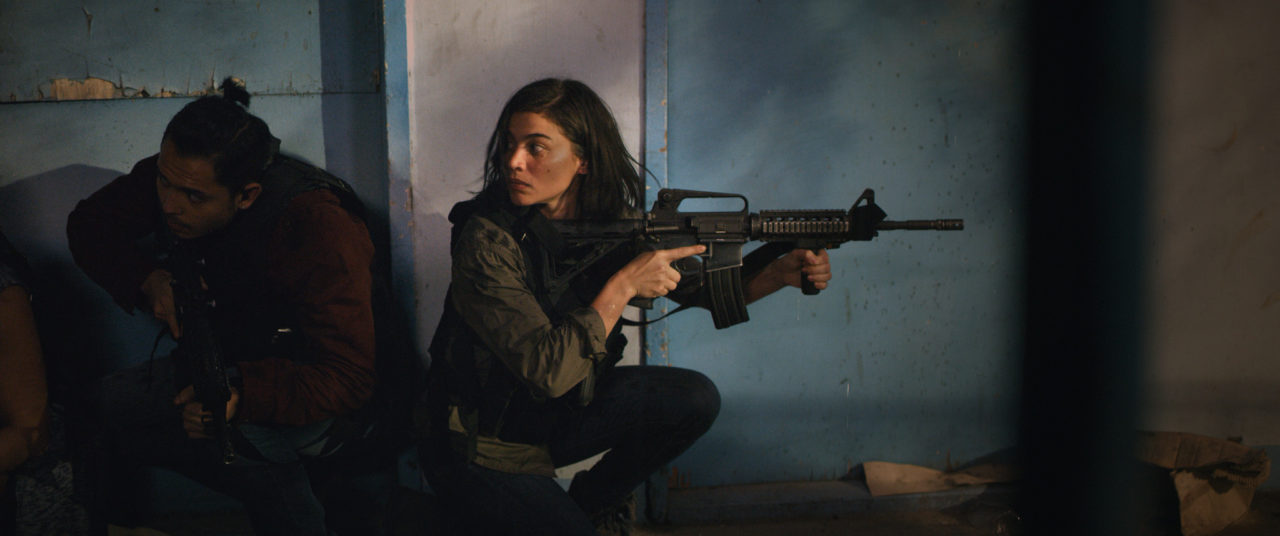 What stood out the most throughout BuyBust was the hyper-realistic portrayal of gun battles and close quarters combat. In both the films and reality, the PDEA is equipped with M-16 rifles, which have a 30-round magazine and are typically used in semi-automatic firing mode, and 1911 pistols, which typically have a 7-round magazine. These weapons are not new to cinema—as standard-issue firearms of the US military and many of its allies, the M-16 is ubiquitous across cinema and video games alike. However, many films portray the M-16 as having an almost unlimited magazine capacity, capable of delivering deceptively accurate, fully automatic fire without the need to reload (and often, without the protagonists running out of ammunition).
BuyBust breaks this tradition of unrealistic portrayals of firearms. Our protagonists fire their M-16 rifles in semi-automatic mode—as they are typically used in real-world militaries—and have to deal with reloading and running out of ammunition. Midway through the film, the PDEA agents even run out of ammunition for their backup pistols, and start searching for weapons from the drug cartel they are trying to escape from.
Beyond its realistic portrayal of gunfights, BuyBust does not shy away from the brutal realities of a drug war. Civilians living in the slum are caught in the crossfire, and ultimately rise up to attack both the drug cartel and the PDEA agents—telling them to "go kill each other somewhere else." Of course, the PDEA agents have to defend themselves against assaults from civilians, and end up killing civilians in brutal ways — one particularly memorable scene depicts a PDEA agent beheading a civilian with pruning shears.
In this way, BuyBust shows that for many impoverished Filipinos, a "war on drugs" is not the most pressing issue—many civilians just want to enjoy life and pursue happiness. After all, in a war between drug cartels and the government, civilians just end up dying in the crossfire—with everything to lose and very little to gain.
However, BuyBust at times still comes across as an indie production rather than a true blockbuster—the cinematography leaves much to be desired, and director Erik Matti uses loud musical tracks during the tense fight sequences, which only serve to diminish their intensity.
All that said, BuyBust is notable for it being one of the few Filipino films to make it to the American silver screen. Well Go Entertainment (who provided Cinema Escapist a screener of the film) will be showing it in movie theatres across America—hopefully giving some exposure to the burgeoning Filipino film industry. With the American President Donald Trump declaring a war on opioids, and a drug war happening just across the border in Mexico, the subjects explored in BuyBust are incredibly relevant for American audiences and beyond.
---
BuyBust —The Philipines. Directed by Erik Matti. Running time 2 hours 6 minutes. First released June 2018. Starring Anne Curtis, Brandon Vera, Victor Neri, Arjo Atayde.