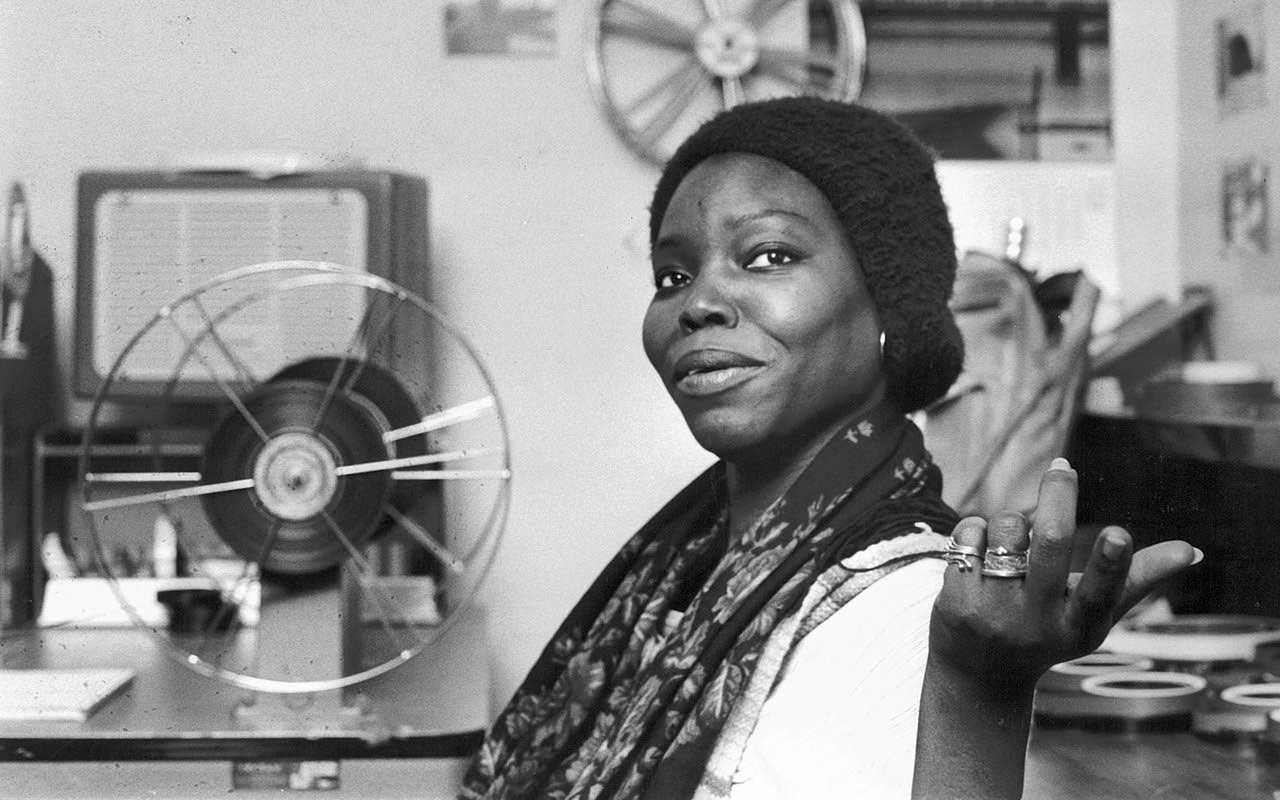 The list of classic African directors known around the world is limited, but prominent men like Ousmane Sembène, Abderrahmane Sissako, Souleymane Cissé, and Djibril Diop Mambéty dominate the conversation. Safi Faye, considered the best known African female director of the 80's and 90's, is rarely celebrated alongside those names. Drawing from personal experience, it takes significant effort and proactivity to simply know about any female-made African films under the "classic" umbrella in that era.
Senegalese director Safi Faye is a cinematic pioneer. With her 1975 feature debut Kaddu Beykat, she became the first black African woman from Sub-Saharan Africa to make a commercially distributed film. She followed that up with several short films—until 1996, when she made her second and final feature film Mossane. With only two feature films to her name, Faye's low output followed a general trend among African female directors of that time (for example, Kenyan filmmaker Anne Mungai only made one film called Saikati in 1992).
Influenced by her study of ethnology & anthropology (the analysis of different people and relationships between them), Safi Faye's films focused on people's everyday experiences—with honest, simple assessments of small societies. This point of view distinguished her works from many African films in the 80's and 90's, which contained high stakes political messages. Safi Faye's final film Mossane offers an exceptional example of her careful "observer" approach, and I will use Mossane to further analyze her unique cinematic style.
Mossane's story
Mossane tells a small simple story about the people from a little Serer village in Senegal; it conveys themes of arranged marriage, economic strife, mysticism, and fatal beauty. The film focuses on a 14 year old girl named Mossane: a dark black, courteous beauty who is the center of admiration and attraction in her village. In the first shot, we see Mossane gently bathing in the water. As she walks out, making her way to the village, three mythical spirits known as Pangools pause from their ritual. From the descriptive soundtrack playing over the scene, we learn they are "admiring their favorite". Mossane is a beauty beyond her own world.
Here, Safi Faye employs representation of the Pangools, spiritual ancestors of the Serers traced back 17 generations. She relates Mossane to the Serer myth that, every two hundred years, a girl's beauty predestines her to a tragic fate. Mossane is so beautiful that little boys playing football give up on their game to follow her around dutifully; a man stammers as he tries to speak to her, and people can barely keep their eyes off her as she walks on the street. However, her beauty immediately becomes a curse when her own brother stares at her longingly and falls in love with her too. That's only a small obstacle though. Mossane's main challenge is that, while she's in love with a young university student named Fara, she was already betrothed at birth to Diogoye, a man who's built a small fortune in Paris.
Theme & Setting
One of Mossane's prominent themes is sex and sensuality. In a scene that stunned audiences back in 1996, Mossane goes to visit her friend Dibor,and we briefly see Dibor having sex with her husband. While she asks her husband to leave quickly because Mossane is too young to understand what they are doing, Dibor goes on to tell Mossane about the ravishing sex she just had, saying: "when i ride him my heart jumps like a tam tam."
Spiritual rituals and ceremonies regularly intertwine with drama in Mossane and her fellow villagers' lives. For example, when Mossane's brother is suffering sick in bed all day, spiritual leaders come to heal him. The villagers make sacrifices to a large godly tree and call in prayer for rain.
In another example, when the film reveals how Mossane's brother is attracted to Mossane, their mother sends them to a tree for a ritual that blinds him from Mossane's beauty. The rituals in the film are all based on myth, not reality, but Safi Faye portrays them realistically—with subtlety and simplicity.
Safi Faye effortlessly transports us into more cultural events of Mossane's village through an eight minute wedding sequence. The scene has everything I know and expect from an African marriage ceremony: energetic cultural dancing, celebratory cheers, elaborate gifts, cash handouts, and egotistical bragging about family legacy and accomplishments. The detail in this scene offers the best embodiment of Faye's anthropological mindset. She uses the wedding ceremony as a portal for understanding the difference in culture, and the attention to detail reflects a sense of analytical rigor Faye perhaps brought from her academic studies.
Aesthetics
When asked to describe some of the problems she has noticed with African films, Safi Faye responded saying African films lack the "creation of a new image". To Faye, if filmmakers, especially those from locations with lower cinematic output, want to be unique, they must think of and create something new while capturing images on screen.
With the help of the German cinematographer Jürgen Jürges (better known for his work with German auteurs Rainer Werner Fassbinder and Uli Edel), this particular sentiment shows in a fascinating scene when Mossane cleans up the mess after a ritual. At this moment, the lighting shifts from daylight to night. Here, Mossane's skin tone is not just black, it's the blackest of black,. When the rain starts to pour, and it turns to night, her skin begins to shine—reflecting through the dark night to become a shiny blue black. In that single scene, Safi Faye captured the richness of black skin and sculpted a fresh image. She utilized lighting in a way that (to my knowledge) has not been used by any other African or non-African filmmaker.
Feminism and politics in African cinema
African cinema doesn't lack feminist stories, even among the dominant male filmmakers. For example, Moolade (Ousmane Sembene, 2005), Black Girl ( Ousmane Sembene, 1966), Taafe Fanga (Adama Drabo, 1997), and Sia, The Dream of the Python (Dani Kouyaté, 2001) all have female characters that are well rounded, unique fighters. It's fascinating how well represented women are in those films and how the filmmakers make great critiques of the patriarchal society the women live in—particularly in comparison to Hollywood films that have perpetuated female stereotypes for decades. This means the feminist themes and critiques made in Mossane are not far removed from what Safi Faye's counterparts were already doing—although she definitely had unique qualities to her work.
However, there is a complexity to labelling Mossane a feminist, or particularly female, piece of work. Carrying the mantle of "first black African woman director" became both a blessing and a burden for Safi Faye; she rejected the title "feminist" filmmaker and preferred to be known simply as a storyteller. This presents a fundamental contrast between different filmmaking generations, as today's female directors are much more conscious and outspoken about gender politics in their work, proudly wearing the label "feminist" on their sleeves.
Filmmaking process and the future
Safi Faye completed shooting Mossane in 1990. However, she had to fight in court for six years with a French producer who, according to an interview, acquired the film's rights, as well as funding from Italy and Switzerland, without her knowledge. This horrible experience, filled with struggle and uncertainty explains why Faye never made another film— a crying shame considering how great Mossane turned out to be, and what more we could have seen from Faye.
Female-fronted films like Mossane, Sarah Moldoror's Sambizanga, Anne Mungai's Saikati, Selma Baccar's Fatma 75, and other monumental films should be a bigger part of the conversation about classic African cinema. Recent efforts like the African Film Heritage Project (AFHP), which aims to locate and preserve 50 classic African films, present an opportunity to bring more attention to these films. In encouraging interviews with Cinema Escapist, Martin Scorsese  and other AFHP members have indicated a desire to ensure female-made African films are part of the restoration efforts.
Furthermore, due to the groundwork of inspirational and daring filmmakers like Safi Faye, many women are at the forefront of a contemporary rebirth in African filmmaking. Young female directors like Wanuri Kahiu from Kenya, Caroline and Agnes Kamya from Uganda, Rungano Nyoni from Zambia/UK, Omelga Mthiyane from South Africa, and Dyana Gaye from Senegal, are taking control over their own stories—and getting people to pay attention. They have Safi Faye to thank for pioneering a path forward with her drive to "create new images."