The film focuses on two main pairs. First there's Xiao An and Xiao Xin, two strangers who literally crash into each other when their bakery and flower deliveries, respectively, go awry. Then there's Da He and Lei Lei, a guitar salesman and municipal employee whose relationship is on the rocks. Around these four are a bevy of other couples and supporting characters, including appearances by actors from Wei's past hits (ex. Van Fan from Cape No. 7, Nolay Piho of Seediq Bale) and even Taipei's current mayor Ko Wen-je.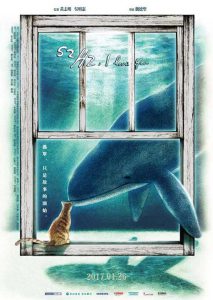 Director Wei has described the film as being like a cup of afternoon tea; if that's true, he must've added a lot of sugar. Though its title references the 52Hz whale, a creature which sings at a frequency no other whale can hear and thus is meant to be a metaphor for loneliness, 52 Hz I Love You is the complete opposite of depressing. Virtually all of its musical numbers are uplifting or, at the very least, imbued with a huge amount of hope. Besides occasionally referencing the 52Hz whale metaphor, they convey slight variants on the message of how "everyone should be able to find love."
As someone who doesn't normally watch musicals and has neither passion for romance nor musical talent, it's rather hard for me to judge the film.  From my musically philistine perspective, it seems the songs are decently catchy though not necessarily groundbreaking or poetic; nevertheless I suspect with Wei's star power audiences in Taiwan will eat them up. Full-on musicals, at least in the energetic Western style of Grease or West Side Story, are a relative novelty in Chinese-speaking film. The only other example I can think of is Mandopop sensation Jay Chou's 2013 film The Rooftop, which even then drew more heavily from Chou's existing eccentric style for musical videos than Western musicals.
Like most musicals, 52Hz I Love You is heavier on performance than plot — you'll have to suspend quite a lot of disbelief to make it through. To enjoy the film, you have to get over the fact that its premise… couples, Valentines Day, flower and cake delivery, is really damn cheesy. Nevertheless, 52Hz's production quality is quite high and, even if the plot is saccharine, the performers do a pretty entertaining job. There's a decent degree of thought put into choreography and the overall mise en scène, with intriguing treats like a musical number featuring a gaggle of motor scooters (distinctive to Taipei, which is famously clogged with motor scooters).
Probably the most interesting aspect of the film for me though, is what it signals about Taiwan's increasingly vibrant and cosmopolitan society. This is a movie that's probably way too sappy and rambunctious to have been made in mainland China — what's more is that two of the supporting characters are a lesbian couple (Taiwan may be the first Asian nation to legalize gay marriage). Additionally, the film's main characters are all in their early 30s. This is likely an intentional nod to the fact that many Taiwanese are either getting married later or having a hard time finding mates/starting families due to rising educational levels and dropping wages. Perhaps the film is a big public service announcement to this demographic in Taiwan: it's OK even if you're over 30, everyone can still find love!
At least within domestic Taiwanese cinema, 52Hz I Love You is a distinctive movie, which is the baseline for a director who's known for switching things up in each of his films. Though its sugar-tinged techniques have been tried to death in the West, its local flavor and social context add some spice to the musical genre. It'll likely appeal to mainstream audiences in Taiwan when it fully premieres in January 2017.
---
52Hz I Love You (52赫茲,我愛你)— Dialog in Mandarin with occasional Taiwanese. Directed by Wei Te-Sheng. Taiwanese premiere in January 2017, with special North American advance screenings in October and November 2016. Running time approx. 2 hours. Starring Lin Zhongyu, Zhuang Juanying, Suming Rupi, and Mify Chen Meixi.