Medan Vi Lever is a haunting study of identity, acceptance, and the tug-of-war between tradition and modernity by the critically acclaimed and award-winning Burkinabé director Dani Kouyaté. Since the early '90s, Kouyaté's extensive filmography has addressed the complex social dynamics of tradition, modernity, history, and shifting identities. His latest film builds upon these themes that have occupied him for so long.
Medan Vi Lever, set in Sweden and Gambia, tells the story of the conflicting relationship between a single mother, Kandia (Josette Bushell-Mingo), and her aspiring-musician 18 year-old son Ibrahim, also known as Ibbe (Adam Kanyama). Kandia is a nurse from Gambia who has been living and working in Sweden for more than twenty years.
Ibbe is the result of her relationship with her deceased Swedish boyfriend, whose parents Ylva (Marika Lindström) and Olof (Sten Ljunggren) were not accepting of the relationship. Olof is portrayed as marginally more accepting and tolerant, but Ylva remains antagonistic toward Kandia. Sekou (Richard Sseruwagi), a fellow countryman from Gambia, acts not only as an intermediary between Kandia, Ylva, and Olof, but also as the surrogate father figure to Ibbe.
As a biracial young man in Sweden, Ibbe is trying to figure out his own identity. This internal conflict and his mother's overprotective love are suffocating him, culminating in an outburst in which Ibbe inadvertently pushes his mother to the floor as she is waking him up to go to his job. Increasingly overwhelmed by her son's violent tantrums, the incident leads Kandia to take time off from her job to spend a year in her native Gambia.
There, she learns of a family feud involving her brother, Modu (Lamine Dieng), who refuses to give his blessing to the relationship between her niece, Souki (Kudzai Chimbaira), and a young griot who is also an aspiring musician. The young griot is considered as coming from a lesser caste, just as Kandia's difficult relationship with her boyfriend's parents stems from her race being regarded as inferior. Soon, Ibbe will arrive in Gambia to visit his mother and connect with his African roots for the first time.
In terms of aesthetics, Medan Vi Lever presents a sometimes dream-like cinematography, courtesy ofAlex Lindén. Ylva's visions provide great insights into the narrative structure of the film as it draws on the subconscious, which may be regarded as the source of repressed feelings and primal fears. The use of such a narrative device demonstrates that fear of "the Other" is derived mostly from the instinctive fear of the unknown, but also emphasizes the psychological state of the characters as a source of creativity.
In this regard, this film builds on Kouyaté's directorial breakout film, Sia, The Dream of the Python (2001), in which madness is portrayed as a creative force as well as a force for sociopolitical change. The madman character of Kerfa, the court jester, is not only the voice of the voiceless, but is also one whose interventions mark key junctures in the narrative structure of the film.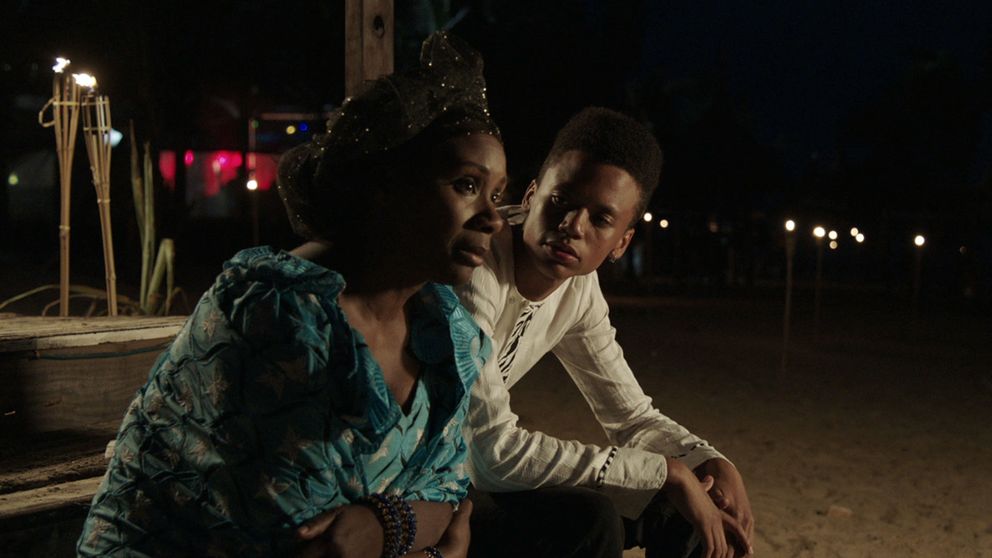 Compared to Sia, the cinematography in Medan Vi Lever is developed far more meaningfully, with differentiated lighting that conveys the overall positive tone of the movie. The interior scenes are well-lit or have white walls in the background, and exterior scenes take advantage of relatively bright natural lighting. Obviously, a contrast can be drawn between the bright lighting of the characters' immediate environments and their psychological states, which are marked by sad moods and intense emotions. Such a contrast will certainly enhance the dramatic effect on the viewer.
However, I interpret the predominance of light as symbolism for the victory of light over darkness, or in the case of this film, the understanding and coexistence of difference over ignorance. The title of the film itself – which translates as "While We Live," or "Tant qu'on vit" in French – alludes to that hopeful message.
Shifting identities are depicted in Medan Vi Lever through personal and professional trajectories. The affiliations of the cultural identities of Kandia and Ibbe challenge any notion of fixed identity. In addition to cultural affinities, professional matters also factor into the decisions of both characters.
Ibbe finds out that the fusion of his hip-hop music with traditional Gambian music represents great potential for his career development, while Kandia struggles with the pull of a stable job as a nurse in her adopted country and the lure of being surrounded by a loving extended family in her home country. As the world is in flux, so also are identities as migration patterns continue to expand, along with the ancillary questions of home, belonging, and identity. The film ends with Kandia and Ibbe making unexpected decisions about their futures.
Amid the backdrop of border closings in Western countries and the rise of xenophobia, other African films, such as London River (Rachid Bouchaerb, 2009), echo the thematic treatment concerning intolerance toward difference or ethnic minorities. Ylva is the archetype of the intolerant mother-in-law, just as the character of Elisabeth was against the idea of her daughter dating the Muslim Malian in London River. Within the context of the current global migrant crisis and the rise of populist parties driven to power on anti-immigration rhetoric and policies, Medan Vi Lever is a call to reflection and conscience.
Boukary Sawadogo, Ph.D, is Assistant Professor of Cinema Studies in the Department of Media and Communication Arts at City College – University New York, USA. His upcoming books on African cinema are African Film Studies: An Introduction (Routledge, 2018), and West African Screen Media: Comedy, TV Series and Transnationalization (Michigan State University Press, 2019).
---
Medan vi Lever – Gambia/Burkina Faso/Sweden. Dialog in Swedish and English. Directed by Dani Kouyaté. Running time 1hr 31min. First Released October 2016. Starring Josette Bushell-Mingo, Adam Kanyama and Richard Sseruwagi.