When a movie is literally named after a hot bowl of noodles, one would expect the focus of the film to be on food. However, Eric Khoo's latest production Ramen Teh (also known as Ramen Shop) is more than just a foodie movie — it's a complex story of family, self-discovery, and the Singaporean identity.
Masato works at a family ramen shop with his father Kazuo in a quiet Japanese city. His father's death triggers him to visit Singapore to reconnect with his distant relatives — and the other half of his cultural roots.
Ramen and History
Masato meets up with Japanese food blogger Miki, who introduces him to the flavors of Singapore — starting with the city's famous chicken rice. As Masato takes in the spices and herbs of Southeast Asia, the film jumps to flashbacks of how his parents met at a bak kut teh (literally "meat bone tea") restaurant. At the time, Masato's father Kazuo owned a small Japanese kaiseki restaurant, and courted Masato's mother Mei-Lian by preparing a smattering of Japanese classics for her, ranging from tamago (egg omelette) to sashimi (raw fish) and grilled mackerel.
As one would expect in a foodie movie, shots of beautifully-prepared dishes take a first class seat next to the actors and story. Ramen Teh is like a highlight reel of Singaporean culinary offerings: from home-cooked Singaporean meals to dim sum restaurants, roti prata to fish head curry — the list just goes on. One segment of the film is literally a step-by-step guide on how to prepare bak kut teh that would not be out of place on an Anthony Bourdain video. Just don't watch this film hungry.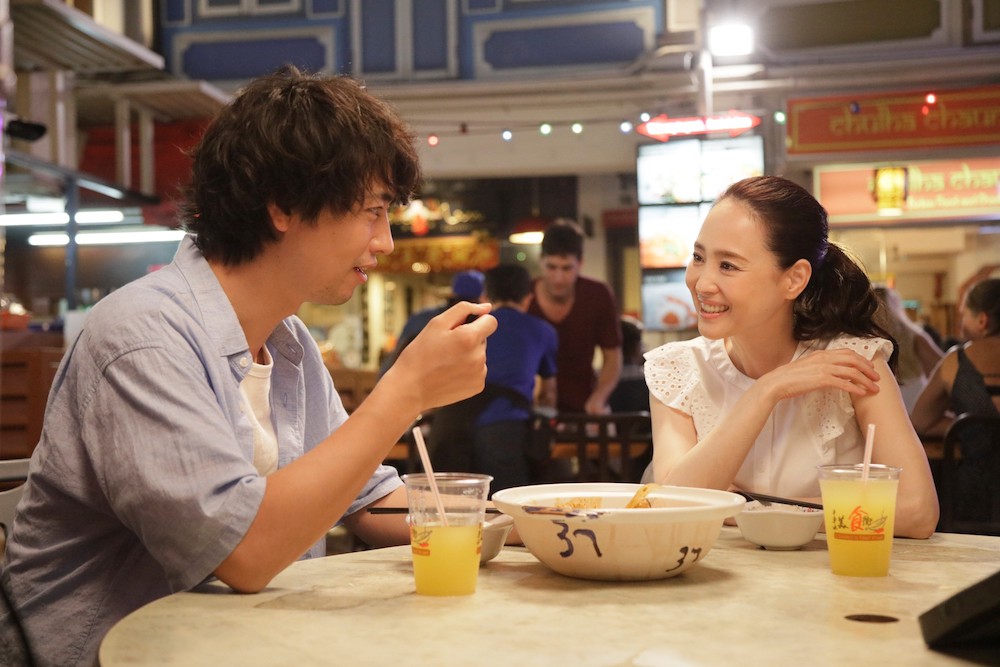 Ramen may not be the road to world peace, but it's a start
However, Ramen Teh quickly takes a turn beyond culinary delights, and dives into a heavier topic: the difficult relationship Singapore (and many other Asian territories) has with the legacy of Japanese military aggression. This is where Ramen Teh goes beyond a simple foodie movie, and starts to take on a whole new dimension.
Masato attempts to connect with his grandmother, but she rebuffs him as she realizes he is Japanese. Back in the past, Mei-Lian becomes estranged with her mother over her relationship with Kazuo — her mother holds a grudge against the Japanese for killing her own father during the occupation of Singapore. In the present, Masato visits a museum of the Japanese invasion, where an audio guide graphically narrates how the Japanese bayoneted babies.
Despite setbacks, Masato decides he wants to repair the relationship with his grandmother, the only way he knows how — through food. With his uncle's help, he sets out to create the film's titular dish: ramen noodles cooked in bak kut teh. After dropping off the dish at his grandmother's apartment, the two reconcile and she even teaches Masato how to cook the recipes Mei-Lian left in her diary.
This beautiful reconciliation harkens to Anthony Bourdain's famous quote, "barbecue may not be the road to world peace, but it's a start." A simple bowl of noodles in this case is easily a metaphor for reconciliation for healing the pains of atrocities committed half a century ago, that carry to modern-day politics — while an older generation continues to dwell on the legacy of wartime Japan, younger generations from China and Korea visit Japan in growing troves, and are happy to slurp up bowls of ramen and plates of sushi. Ramen Teh was meant to celebrate 50 years of diplomatic relations between Singapore and Japan — Eric Khoo chose food as the theme, as he believed it was not only a cultural carrier, but a "unifying force". After all, it's pretty hard to hate on Japan while eating sushi.
But "ramen teh" is also a metaphor for Singapore — a multicultural, diverse country. "Ramen teh" is a fusion of a Japanese dish with a Singaporean dish, both with origins from China. Even defining "Singaporean" is difficult — while the country's biggest demographic is Chinese, Malays and Indians make up a fifth of the country's "local" population. The island is also host to a large number of expatriate workers, who bring along with them cultural influences from their own home countries.
Western audiences gushed at the glitz and glamor of Singapore in Crazy Rich Asians, but Ramen Teh is a more authentic and down-to-earth introduction to the Lion City. Come for the food, but stay for the culture lessons.
•  •  •
Ramen Teh is being released in select US theaters on March 22nd.
---
Ramen Teh (also known as Ramen Shop)—Singapore. Dialog in Japanese, English, Mandarin, and Cantonese. Directed by Eric Khoo. Running time 1hr 30 minutes. Starring Takumi Saitoh, Jeanette Aw (also known as Ou Xuan), Mark Lee, Beatrice Chien, Seiko Matsuda, Tsuyoshi Ihara, Tetsuya Bessho.