With almost no exceptions, South Korean males must perform at least 18 months of military service between the ages of 18 and 28. This is no walk in the park: pay is extremely low, living conditions are spartan, and hazing is rampant. Netflix's new series D.P. (short for "Deserter Pursuit") explores these harsh realities of Korean military life with a degree of realism previously unseen in K-media. The show is highly accessible—filled with compelling characters and suspense—and represents another victory for Netflix's recent foray into socially conscious Korean content.
Adapted from a popular webtoon, D.P. follows the experiences of a young man named Ahn Jun-ho (played by Jung Hae-in). Upon conscription to the South Korean Army, Ahn gets assigned to a military police unit. He's a strong, silent type with a streak of hidden intelligence—qualities which attract the attention of a senior noncommissioned officer who runs a special "D.P." detachment that's responsible for catching soldiers who desert.
Because it provides an excuse to leave the regimented life of a military base in order to pursue deserters, becoming a D.P. is usually a plum assignment reserved for those with privileged family connections. Despite coming from a more indigent background, Ahn gets selected as a D.P. on the basis of his merits—but soon discovers that the role isn't all butterflies and rainbows.
In order to catch deserters, Ahn learns from his assigned partner Han Ho-yeol (Koo Gyo-hwan), you need to think like them, and empathize with them—and that's exactly what D.P. itself helps audiences do. Each of the series' six episodes involves the pair chasing a different deserter, and learning more about the circumstances behind that desertion. The episodes build upon each other in a serialized manner, successively revealing more about the backgrounds and traumas of Ahn, Han, and others in their immediate unit. A realistic and damning portrait of the South Korean military emerges along the way.
As D.P. reveals, South Korea's conscripts frequently encounter abuse, and must contend with rigid hierarchies more intense than those of most Western militaries. The status of conscripts depends on when they entered the army; juniors must obey seniors at all costs, regardless of abilities or age. This creates a dynamic that encourages physical and psychological abuse from seniors to juniors. Over the decades, reports of different hazing techniques emerge at a regular clip—regular slaps and kicks, shaving with a cleaver, eating cigarettes, inflicting burns with a heated spoon, and so forth. In an infamous 2014 incident, a 20 year-old conscript died after comrades beat him while force-feeding him frozen food. D.P. holds nothing back when depicting bullying, and draws directly from many of these examples. Through this, the series makes it brutally apparent why many South Korean conscripts may think of going AWOL.
There's an even darker dimension beyond going AWOL though, one which creates an added sense of urgency for Ahn and Han to catch deserters in D.P. Sometimes, under the weight of the trauma they've experienced, soldiers snap—and end up hurting either themselves or others. Almost a thousand Korean soldiers have killed themselves over at least the past decade, and there have been numerous incidents where aggrieved soldiers end up murdering their comrades in frustration. D.P. weaves such suicides and killings into its storyline as well.
While a 2005 movie called The Unforgiven previously tackled this culture of military abuse, no other Korean shows starring A-list actors have bothered to broach the subject. There are far more K-dramas (e.x. Descendants of the Sun) that depict the military in a positive, glorified light—which isn't surprising given South Korea's military holds an almost sacred status in mainstream society. This makes D.P. all the more novel and courageous. The series likely wouldn't exist if Netflix didn't provide a funding source independent from South Korea's business establishment, whose corporate culture often echoes the military's.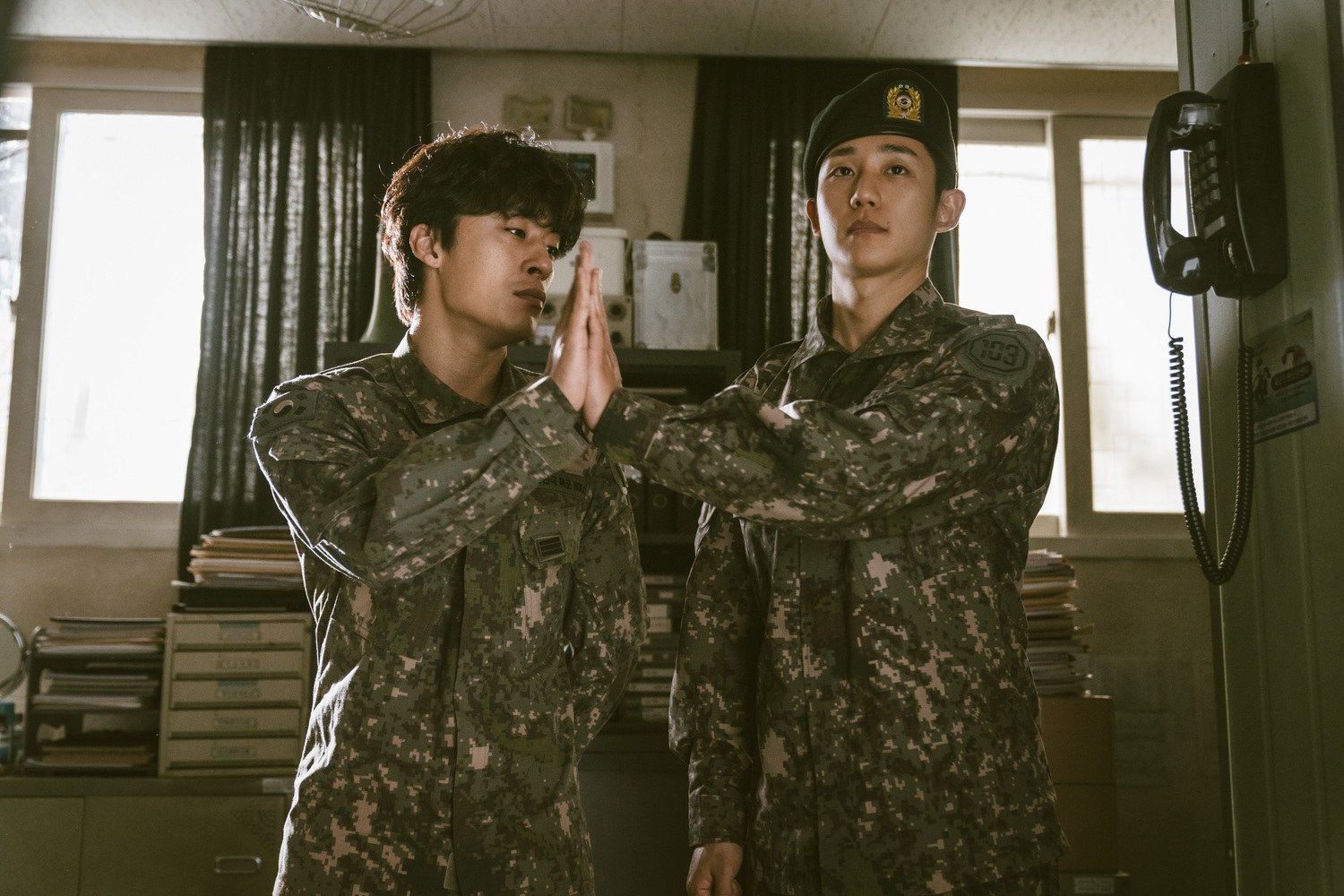 D.P. isn't just realistic though. Even if its dark subject matter might turn off some viewers, it's presented in a manner that'll captivate general audiences. The laconic Ahn Jun-ho and verbosely sarcastic Han Ho-yeol represent an "odd couple" dynamic that helps balance the show's emotions from getting either too depressing or too irreverent. Ahn and Han both get sufficient character development; the series also manages to spend enough time helping viewers understand the individual circumstances of many secondary characters without feeling overly bogged down.
Fight and chase scenes add an extra layer of dynamism to the show's plot, and the serialized storyline is split between episodes in a way that maximizes suspense and encourages binge-watching. In another sense, D.P. feels a lot like a good detective series featuring a pair of dogged investigators who are trying to get to the bottom of an injustice—it just happens that the injustice involves South Korea's military.
With other series like Extracurricular and Move to Heaven, Netflix has shown a willingness to invest in Korean shows that eschew traditional K-drama tropes and lean into societally significant matters. So far, these Netflix social issue dramas have hit a sweet spot that combines quality entertainment and accessible advocacy, and D.P. seemingly continues that trend. Despite repeated promises of reform across the past three decades though, the military culture D.P. depicts continues, seemingly unabated. Whether the series is able to help change that will be the real test of its quality.
•   •   •
---
D.P. is currently streaming on Netflix worldwide.