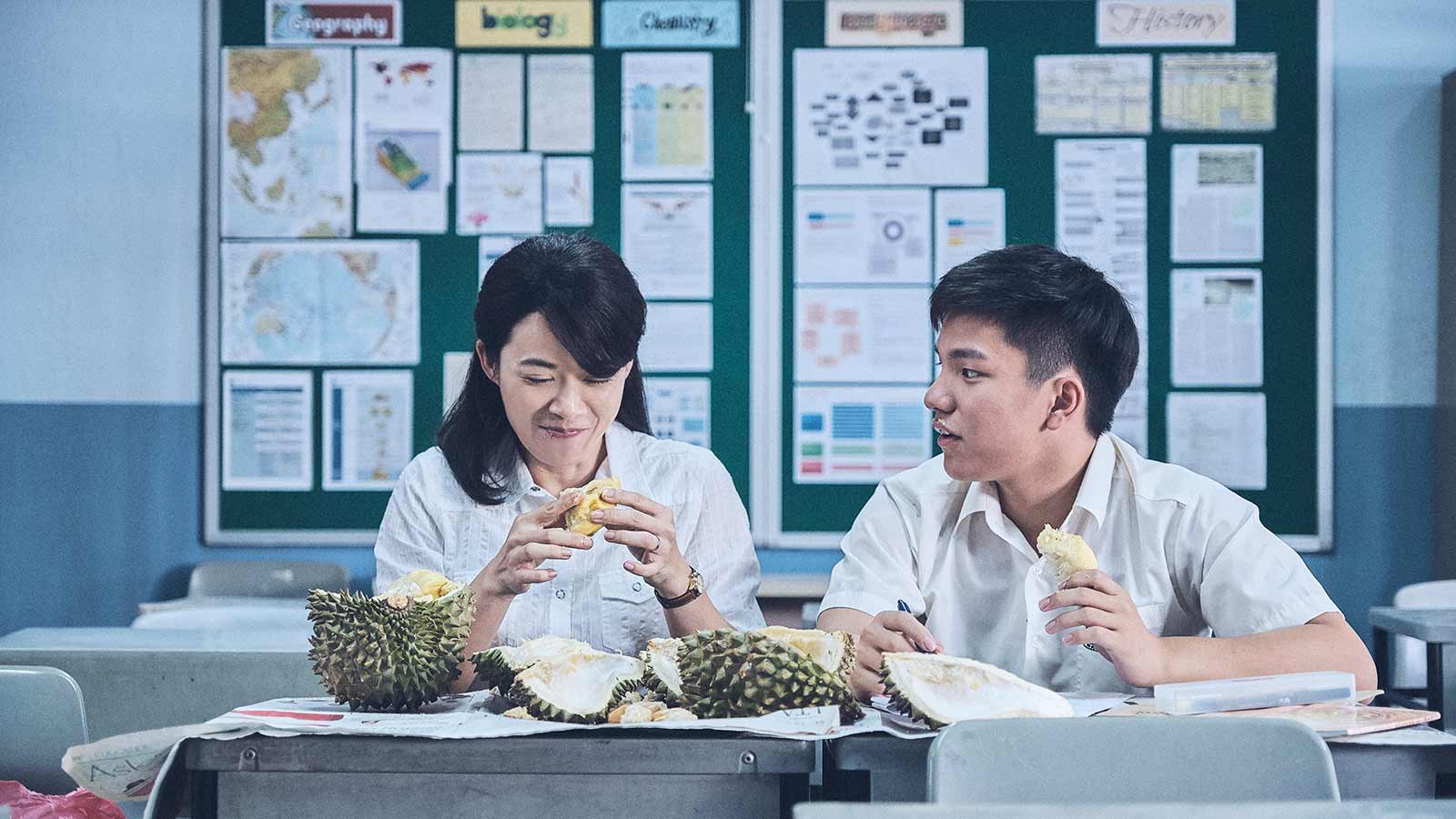 Singaporean director Anthony Chen made a splash in the cinematic world when his freshman film Ilo Ilo won a top prize at Cannes. Chen returns to the silver screen with his sophomore effort Wet Season, a film that also explores absence in a family. Wet Season also sees Chen reunite with Ilo Ilo stars Yeo Yann Yann and Koh Jia Ler, who play similar roles as a mother figure and troubled teenager respectively.
Wet Season revolves around the life of Ling, a schoolteacher who deals with infertility while having to take care of her infirm father-in-law at home. One of Ling's students, Kok Wei Lun, develops a crush on her during remedial Chinese classes. The two become closer as Wei Lun embraces Ling's extra tutoring.
For fans of Ilo Ilo, there's a clear thematic strand between Chen's two feature films. Wei Lun, like Koh's rendition of Jiale in Ilo Ilo, grapples with absentee parents. Meanwhile, Ling, much like Yeo's Hwee Leng in Ilo Ilo, struggles with emotional neglect and a failing marriage.
Motherly Love—Or Lust?
The film is ostensibly about a love affair between Wei Lun and Ling. Given that Singapore is known for being relatively conservative, the combination of an extramarital affair with a juicy teacher-student relationship would be fairly scandalous. After all, Singapore isn't exactly France, where people are not only more accepting of infidelity, but also elected a President who married his high school drama teacher.
Anthony Chen treats this touchy subject sensitively. There's only one sex scene in the entire film (and Yeo remains mostly clothed in the scene), and the relationship's development takes up the majority of Wet Season's 103 minute running time before it's consummated.
In fact, for most of the film, the relationship between Ling and Wei Lun more resembles mother and son than two lovers. Ling cooks dinner for Wei Lun and they have a "family meal," and later cheers on Wei Lun at his wushu competition when his parents can't make it. Wei Lun becomes the son Ling so wanted but can't have due to her infertility, while Ling becomes a surrogate mom to Wei Lun when his own is conspicuously absent.
After all that, seeing Ling and Wei Lun have sex feels as unnatural as the scene itself—a scene in which Wei Lun clumsily asks Ling, "am I doing it wrong?"
Authentic Local Narratives
Wet Season will hardly be global audiences' first glimpse of Singapore. Even if audiences are not familiar with Chen's Ilo Ilo, between Hollywood's Crazy Rich Asians and Netflix's Singapore Social, people around the world at least know of the city-state's existence. However, as we've noted before, local Singaporean cinema tends to focus on the grittier lives of lower-income "heartlanders."
Wet Season is a quintessential heartlander film There's nothing glamorous about the lives of any of the characters; their stories are steeped in misery. Neither Wei Lun nor Ling find happiness in the film. This stands in contrast to the Western "cosmopolitan" portrayals of Singapore, which tend to celebrate life's highlights rather than showcasing its routine struggles.
Those struggles are ultimately what makes Wet Season worth watching. Chen artfully weaves threads of feminism and coming-of-age throughout the story. Ling's second shift as a homemaker and caretaker for her husband's ailing father will resonate with many women around the world. Meanwhile, Wei Lun's emotional immaturity is an authentic portrayal of most adolescent boys' state of mind, and stands in contrast to Ling's more reserved personality. The complexities of the pair's relationship ultimately ends up becoming a life lesson for Wei Lun as he prepares to pass his high school exams and enter adulthood.
While Hollywood continues to highlight the glittering side of Singapore, local films like Wet Season will provide a valuable outlet for the less joyful moments of life. Chen shows us that life's more mundane struggles are just as worthy of the silver screen as its most glitzy highlights.
•  •  •
---
Wet Season (Chinese: 热带雨)—Singapore. Dialog in English, Mandarin Chinese, and Hokkien. Directed by Anthony Chen. Running time 1hr 43min. First screened September 2019 at the Toronto International Film Festival. Starring Yeo Yann Yann, Christopher Lee, Koh Jia Ler, Yang Shi Bin. 
Cinema Escapist reviewed Wet Season as part of the International Film Festival and Awards Macao 2019.