While the Marvel Cinematic Universe earns big bucks in the US and beyond, Indonesia has been trying to create a domestic equivalent: the Bumilangit Cinematic Universe (BCU). The BCU started off with famed director Joko Anwar's Gundala in 2019, but soon ran into challenges with the sudden eruption of COVID-19. It wasn't until November 2022 that the BCU's second movie Sri Asih finally released in Indonesia, after a last-minute post-production delay. Now, Sri Asih is touring the international festival circuit, offering non-Indonesian audiences a chance to make inevitable comparisons with American superhero flicks.
In terms of action, Sri Asih is entertaining enough—though it doesn't try to compete with the city-destroying scale of Marvel, and its plot could use some work. However, the film's class consciousness and Indonesian context should give global audiences who are tired of MCU's formulaic-ness some much-needed refreshment.
Indonesia's Wonder Woman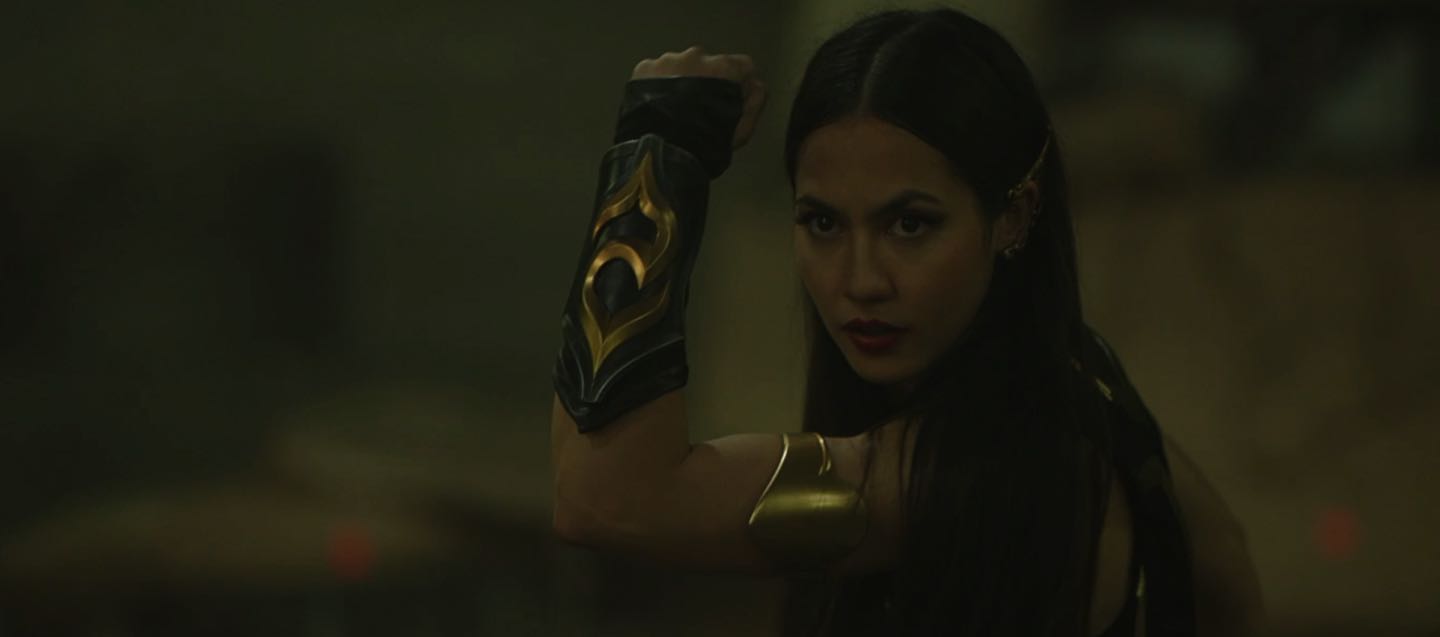 The easiest way to describe Sri Asih for international viewers is as Indonesia's equivalent to 2017's Wonder Woman—the film's name also comes from its protagonist. Like Wonder Woman in the US, the character of Sri Asih has a storied history in Indonesia. Created by the "father of Indonesian comics" R. A. Kosasih in 1954, Sri Asih was Indonesia's first-ever homegrown superhero. She featured in various comic books, and was even the subject of a now-lost 1954 eponymous film. Reminiscent of how Wonder Woman came into being as the US became a superpower through WWII, Sri Asih's creation coincided with the initial years of Indonesian independence—so the character, wrapped in elements of Javanese mythology, helped illustrate how Indonesia navigated between cosmopolitanism and tradition as it developed  consciousness as a modern nation-state.
2022's Sri Asih pays homage to those origins by acknowledging the existence of a 1954 pre-incarnation of Sri Asih, but reboots the character for modern times. In the movie, a young woman named Alana ends up discovering that she's the latest incarnation of Sri Asih. Orphaned at birth after an eruption of Mount Merapi kills her parents and adopted by a rich woman who trains her as a cage fighter, Alana stumbles upon her superhero identity after coming into conflict with a rich property developer who wants her to throw a match.
Superficial Plot, Underdeveloped Characters
As global audiences have become aware through examples like The Raid or The Night Comes for Us, Indonesian cinema does not lack for entertaining fights. Sri Asih doesn't disappoint in this regard, though the character Sri Asih's techniques—for instance stopping bullets with wristbands—seem a bit too reminiscent of Wonder Woman, albeit deployed at a less ambitious scale.
Sri Asih's plot and characters are good enough to move the film forward, but not particularly even, thought-provoking, or developed. For one, Alana's formal transition into Sri Asih happens rather suddenly, inexplicably, and almost too conveniently—we don't see her work towards becoming a superhero, or grapple meaningfully with what her newfound powers mean. The film's secondary characters are even less developed. Without giving too much away, Sri Asih progresses through a series of villains, who either are flat caricatures (ex. soulless property developer) or come completely out of left field without much background on what drives their villainy.
Class Consciousness and Local Flavor
Nevertheless, it's worth giving Sri Asih credit for having a degree of class consciousness that easily exceeds that of most Marvel movies, and gives DC Comics (which produced Wonder Woman and more socially aware titles like The Dark Knight Rises) a run for their money. In the movie, Sri Asih fights on behalf of the downtrodden, for example by trying to save people who live in Jakarta's slums. It seems like, as was the case with 2019's Gundala, the modern Sri Asih has an even stronger degree of class consciousness than its source material. Though she still fought for justice and truth, the original Sri Asih comic character apparently was the daughter of a rich family who gallivanted to destinations like London—not an orphan who ends up fighting for Jarkata slum residents on her debut.
As expected now for the Bumilangit Cinematic Universe, Sri Asih also shamelessly flaunts its roots in Javanese mythology. Prominent examples include its opening scenes around Mount Merapi, and the origin stories of not only Sri Asih but also the film's main villains. For those tired of formulae like "billionaire throws money at fancy suits and becomes superhero", such mythical elements could provide some welcome novelty.
With that in mind, while Sri Asih has flaws, its role in helping establish Indonesia as a new center of superhero movie innovation makes it worth paying attention to. With the MCU plodding around and perhaps getting complacent, it's good to have a little competition from around the world to keep the genre fresh.
• • •
---
Sri Asih—Indonesia. Dialog in Bahasa Indonesia, Javanese. Directed by Upi Avianto. Running time 2hr 15min. First released November 17, 2022 in Indonesia. Starring Pevita Pearce, Christine Hakim, Ario Bayu.