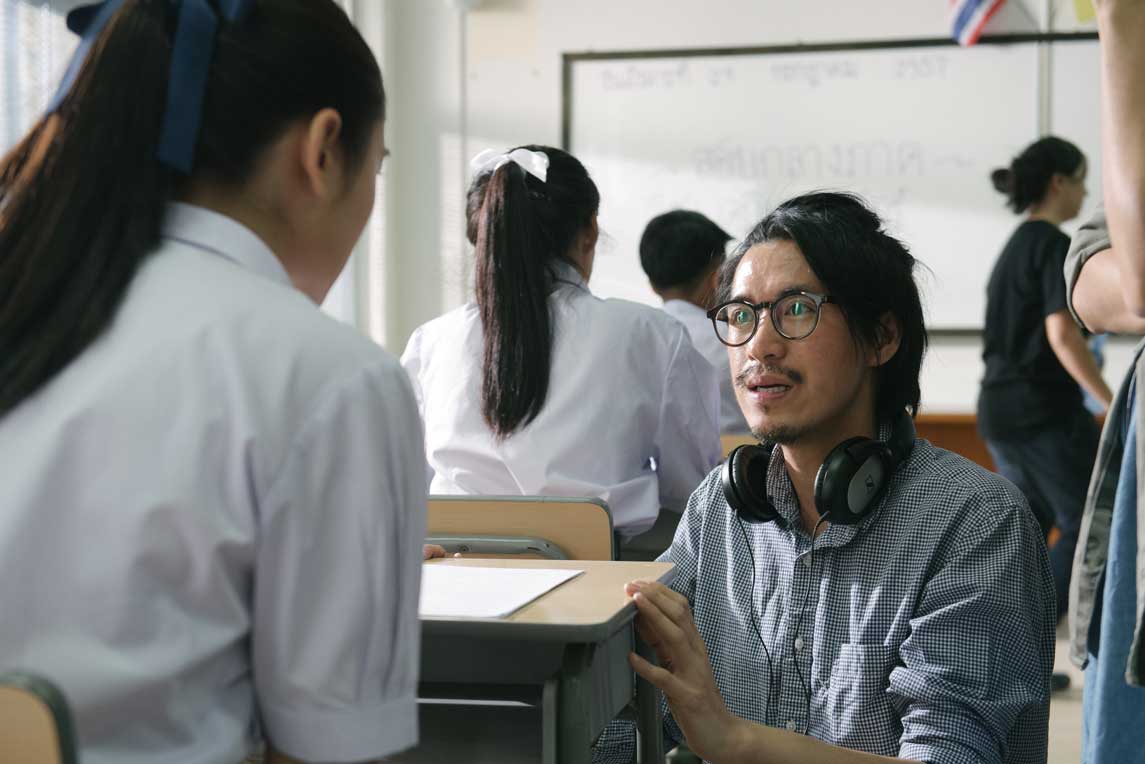 By Olivia Yang
Cheating on an exam seems like nothing; but what if money is involved?
"Bad Genius," director Nattawut 'Baz' Poonpiriya's latest heist thriller, not only portrays the high cost of cheating but further delves into Thailand's corrupt education system and class inequality issues. It currently holds a score of 8.3 on IMDb and 100% on Rotten Tomatoes.
The nail-biting 130-minute film was selected to open this year's New York Asian Film Festival, where it also won Best Feature last week. "Bad Genius" premiered in Thailand on May 3 and is so far the highest-grossing Thai film of 2017, earning 112.15 million baht (US$3.3 million) at the box office.
Critics have said the film is "as entertaining as 'Ocean's Eleven'" and that it is "a work of craft that will help raise Thai cinema to another level of diversity."
"Bad Genius" is now playing in theaters around Taiwan, and The News Lens caught up with Poonpiriya, who is currently in New York, to learn more about making the film and the director's future plans.
The News Lens: Congratulations on "Bad Genius" winning Best Feature at this year's New York Asian Film Festival (NYAFF). How are you feeling after being the first recipient of the festival's newly launched Main Competition?
Nattawut Baz Poonpiriya: I'm overwhelmingly happy. It's such an honor for the film and also especially for the cast and crew.
TNL: "Bad Genius" is also the first Southeast Asian film chosen to open NYAFF; why do you think an audience that's not Thai or familiar with the exam-orientated education systems can relate to the film?
Poonpiriya: I am quite surprised to see that our non-Thai audiences can relate to the film this much. I think that also means that the education system in other countries may have similar problems.
TNL: To my knowledge, you were approached by the producers of "Bad Genius" to direct the film. What made you accept their proposal?
Poonpiriya: At first, I felt very excited to see this opportunity for me to direct a film with this kind of plot within the heist film genre. Later, when I did some more research, I learned that there are more problems in other angles of the education system here. So I felt that we must use this opportunity to convey what we feel and think into this film.
TNL: Aside from directing the film, you also helped in writing the script which took over a year. What were the challenges in developing the script?
Poonpiriya: I had to find a way to balance between directing escapism along with conveying my key message, which was difficult.
TNL: The cast of "Bad Genius" are mostly inexperienced actors; why did you make this decision?
Poonpiriya: Actors who are not stars increase the naivety of each character, which adds depth and dimension to the character. Not only was it more convincing to the audience, it was even convincing for myself as the filmmaker, too.
TNL: "Bad Genius" is your second feature film, and your first feature, "Countdown," was also a thriller. Are you particularly drawn to directing thrillers? And would you like to work with different genres in the future?
Poonpiriya: It's more of a coincidence, actually. I try to make sure that I don't repeat any old work. Although both "Countdown" and "Bad Genius" are thrillers, they are different. In terms of detail, the mood, tone and the language of the films, they are totally different.
If possible, for my next movie, I would like to try a different genre. In the end, it depends more on the story that I want to portray. Usually, the plot of the movie is what dictates me (as the director) more than me being the boss of the movie.
TNL: Aside from directing films, you have also spent much time working on TV commercials and music videos. Do you plan to go back to focusing on advertising anytime soon? Why?
Poonpiriya: Definitely. I love working on all of these kinds of work, music video, TVC. All of them challenge me and have their own beauty. I am in love with them all.
TNL: As a director, what are the changes you have seen in the Thai film industry in the past few years? What do you think needs improving?
Poonpiriya: When the filmmakers become braver, the audience becomes braver, too. One thing that we filmmakers have to be careful of is how we communicate and connect with our audience in the most effective way that doesn't make us lose our identity.
This article was originally published in The News Lens International as "Q&A: Box Office Hit 'Bad Genius' Director on Making the Thai Heist Thriller". Cinema Escapist has been authorized to republish its contents.