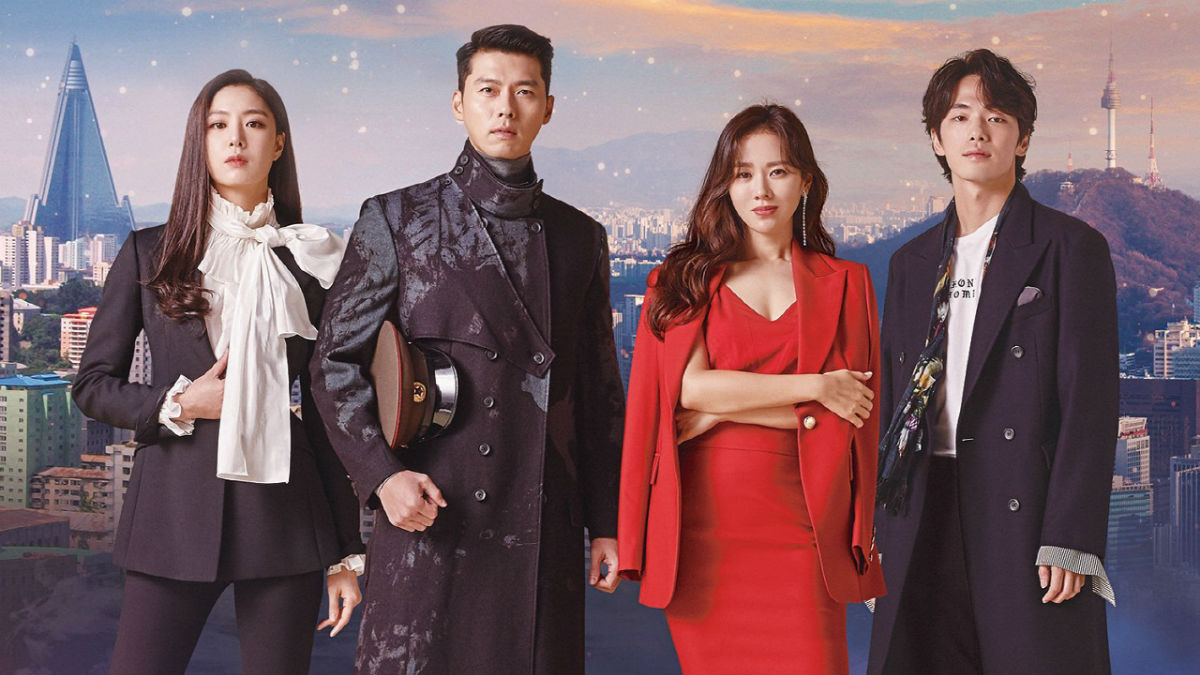 North and South Korea don't exactly love each other. However, that doesn't mean North and South Korean characters can't love each other in fictional K-dramas. For proof, look no farther than the TvN and Netflix drama Crash Landing On You. Starring Hyun Bin and Son Ye-jin, the drama tells an infectiously amusing inter-Korean love story that'll please both romance fans and those interested in geopolitics.
Cross-Border Comrades, A Love Story
Crash Landing On You has a pretty simple—and rather goofy—premise. One day, a South Korean chaebol heiress named Yoon Se-ri (Son Ye-jin) randomly decides to go paragliding. A freak tornado happens, and she crash-lands in North Korea. Ri Jung-hyuk (Hyun Bin), a Captain in the North Korean army, discovers her. After Yoon fails to escape back to the South, Ri begrudgingly offers her refuge and protection—and the two start falling in love.
Having starred together previously in The Negotiation, Hyun Bin and Son Ye-jin bring great chemistry to this North-South Korean love story. Captain Ri might be a North Korean officer, but he has the pearly skin and detached confidence of a "rich man" K-drama male lead. Per standard K-drama practice, he starts reluctantly doting on Yoon—whose endearing feistiness complements his reticence. The two exchange catchy jokes and jabs, leaning creatively into North-South Korean differences around mundane topics like eating meat. It's as if Hyun Bin's character from the hit series Memories of the Alhambra got exiled to North Korea, but kept all his good looks, charm, and K-drama trope behavior. Romance-minded viewers should have no trouble enjoying Crash Landing On You as a result.
Novel Gender Dynamics
The concept of inter-Korean romance isn't new to K-dramas. Northern characters appear quite often in mainstream dramas, including romantic ones. In 2012, The King 2 Hearts saw a female North Korean officer (Ha Ji-won) fall in love with the Prince (Lee Seung-gi) of a fictional monarchist South Korea. Also in 2012, Korean Peninsula showed its South Korean scientist protagonist falling in love with a North Korean scientist.
In such Korean dramas featuring North Koreans, male North Koreans usually come off as coarse, contrasting with smooth-talking and smooth-skinned South Korean male leads. It's also usually the South Korean male who woos the North Korean female, with power dynamics in the South's favor. This mirrors real-life perceptions. Most North Korean defectors are female, and popular South Korean matchmaking shows have perpetuated a stereotype that Northern women and Southern men are the most attractive pairing.
The well-bred, well-lotioned Captain Ri in Crash Landing On You represents a change from that precedent. Even if Yoon Se-ri is an heiress, her wealth means nothing in the Worker's Paradise—meaning Ri holds the cards in their relationship. Perhaps the show's producers are betting that Ri's North Korean nationality generates "bad boy" vibes that appeal to female fans. Regardless, we're interested to see whether Crash Landing With You generates any shift in South Korean gender perceptions of North Koreans.
The (Inter-Korean) Politics of Love
Those interested in the social and political dimensions of inter-Korean relations have more to enjoy in Crash Landing With You besides gender dynamics. The drama presents everyday North Korean life in both Pyongyang and the countryside with a degree of detail that predecessors have not achieved.
For instance, Crash Landing With You contains the best exterior shots of Pyongyang landmarks (like the Ryugyong Hotel and Juche Tower) I've seen in any K-drama, and episode two contains some fantastic moments starring Pyongyang's famous "traffic ladies." The drama also shows Captain Ri shopping for South Korean consumer goods in a jangmadang, a type of informal market that has sprouted up over the past decade throughout North Korea. Ri's comrades have kerfluffles with Yoon over linguistic differences between North Korea and the South (like the word for "shampoo"), but also bond by sharing plot points from K-dramas that the Northerners watch illegally.
While Crash Landing With You might still perpetuate certain stereotypes around North Koreans' poverty, its attention to detail at least communicates an awareness that North Korea has evolved since the Cold War, and inter-Korean relations along with it. In line with the vast majority of South Korean dramas and movies (ex. Joint Security Area, which Yoon Se-ri actually references), North Koreans come off sympathetically in the show. They're wayward siblings that ultimately still belong to the same family, and deserve South Koreans' love.
Unfortunately, these sentiments aren't bearing fruit in real life. Though South Korean President Moon Jae-in has pushed for inter-Korean rapprochement over the past few years, he hasn't made much progress and faces increasing domestic opposition. With inter-Korean negotiations at a standstill and Moon's party facing headwinds ahead of legislative elections next year, those looking for some love between North and South Korea might have to settle for fictional representations. Fortunately, Crash Landing With You does a pretty good job with that.
•   •   •
---
Crash Landing On You is currently available for streaming worldwide on Netflix.