Few occasions in life condense intensive anxiety and insecurity like taking a standardized test. In Bad Genius and Freshman (Première Année), Thai and French films respectively, a standardized test becomes a fertile ground for examining the choices and sacrifices people make in order to surmount their competition. 
Both films are interested in exploring the winning strategies for standardized tests, if there are any. Whether it is through cheating the system or entirely following its rules, challenging the faceless behemoth of the standardized test is not for the faint of heart. Visually speaking, both films capture the tension and spectacle of the exam room as a battlefield. At the crucial juncture that determines many young people's futures, the standardized test may also become a turning point of growth in emotional maturity. Preparing for a big test may break your spirit⁠—but worst of all, it may make you a mean person, and cause you to hurt the people who are closest to you.
Memorizing Without Understanding
Thomas Lilti's The Freshman delves into the lives of Antoine and Benjamin—two first-year students in health studies—and the burgeoning friendship and escalating competition that threatens to break their bond. To those audience members who are unfamiliar with the medical education system in France, the film provides a glimpse to PACES (short for première année commune aux études de santé, namely, the first year common curriculum for health studies). The plot neatly captures the high levels of anxiety and competition that permeate the first year, which concludes with a final exam that eliminates 75% of the students. Only about 300 of the 2,000 test takers can proceed into the second year, and the test can only be retaken once. 
Besides giving the audience an overview of the French medical test system, the film also poses the question of whether such an exam selects candidates who are truly passionate about medicine. The two young men found camaraderie in the intensive coursework and look out for each other in school life, but cut-throat competition always seemed to interfere with forging a closer emotional bond.
Antoine becomes increasingly jealous when Benjamin, who is casual, gluttonous, and alternates social reactions between a blank stare and a goofy smile, consistently ranks higher in multiple mock exams. Toward the film's beginning, an old acquaintance of Benjamin's gives the advice of "memorizing without understanding" as the key to success; it has since become Benjamin's adage to mindlessly absorb knowledge without questioning if he actually wants to pursue a medical path.
On the contrary, Antoine has a weaker academic foundation. As the plot progresses, it is hard for a viewer to observe Antoine without sympathy; he is fully dedicated to his dream, yet he is up against all odds for succeeding in his last chance in the exam.  
Vincent Lacoste's portrayal of Antoine is in line with some of his prior work. Lacoste's prior role in Julie Delpy's Lolo establishes his onscreen persona as an attractive, egocentric, and spoiled young man who wears an innocuous smirk and aims to get all he wants. In Lolo, he sabotages his mother's romantic relationships in order to get her full attention; in The Freshman, he plays a more mature man, but is still easily get entangled in angry and jealous feelings. 
When Antoine is hospitalized after a mental breakdown, his father expresses concerns about Antoine's future to Benjamin: "he is not cut out to be a doctor."
In reply, Benjamin suggests the inadequacy of a strict standardized test system to determine the right candidates: "some people who pass the exam are not cut out to be doctors as well."
The film's climactic ending leaves a bittersweet tone, which confirms PACES' failure to test passion and compassion—two essential qualities in becoming a good doctor.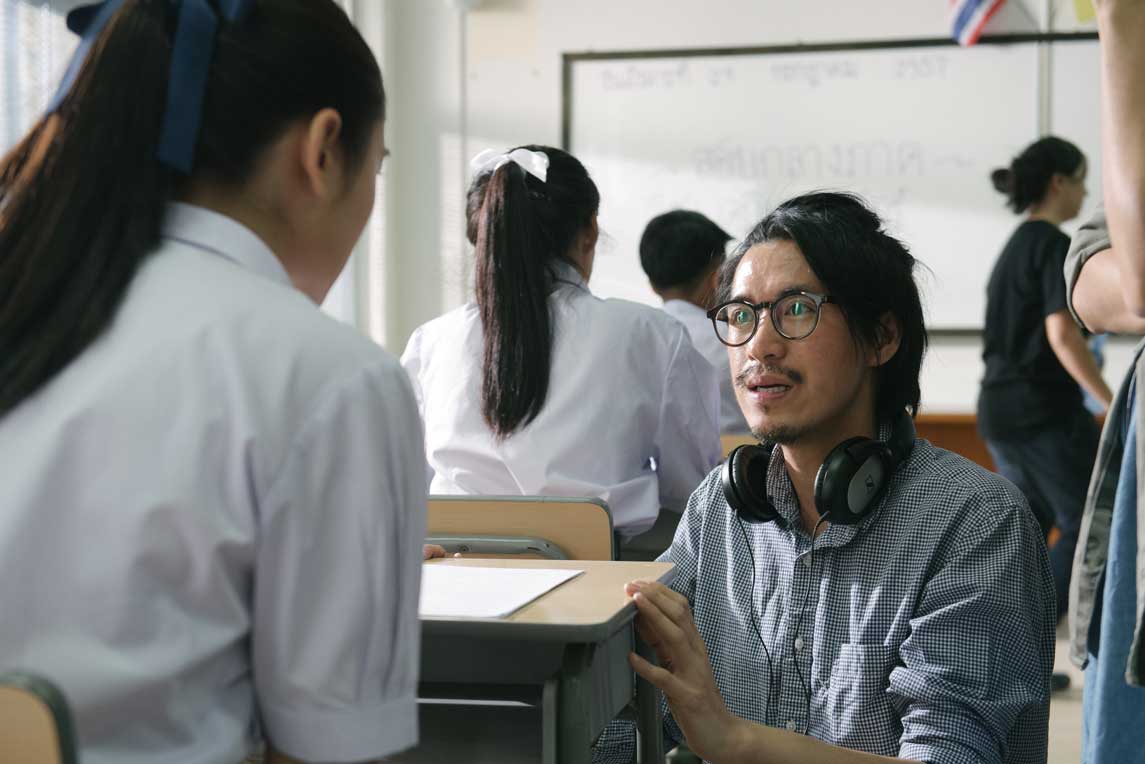 Gaming The System
Based on an SAT cheating scandal, Nattawut Poonpiriya's Bad Genius provides social critiques about the corrupting Thai elite school system and the trend of Asian students flooding abroad for higher education. Poonpiriya is more interested in uncovering the hidden social factors that prompt cheating rather than exploring its immorality. 
Bad Genius tracks the evolution of Lynn, a timid straight-A student who rises to become the leader behind an international-scale cheating scandal. Lynn is bound to a bright future when she enrolls in an elite private high school with a full scholarship. However, upon learning that her widowed father has to pay an outrageous amount of maintenance fees to her school, Lynn decides to earn some extra money by helping her rich classmates cheat in exams.
After the school finds out that Lynn has helped a group of students cheating on a major exam, Lynn is expelled from the school yet her rich classmates remain intact. Not long after, She gets entangled in a bigger and bolder scheme to help students cheat the STIC exam. The swooning camerawork that is typical in a heist movie does not mask the film's complex moral question. Are the crime's core perpetrators, Lynn and Bank, also the real culprits? To answer this question, the director positions the viewers to the larger social context of the Thai elite school system, which fails to provide students with resources to win in a fair competition. Ultimately, the crime is the result of a series of chain reactions–from the corrupted school officials, dogmatic teachers, inattentive rich parents, to the students who buy good grades to please their parents. Lynn and Bank, two of the most academically achieved students at the school are also the most victimized in a system of educational inequality widened by the wealth gap. However, the rivals-turn-business-partners relationship takes a dark turn at the end when the international cheating scandal is discovered. The film's ending elevates the complicity in answering the moral question of cheating. Lynn and Bank suffer similar consequences from the scandal while they face the event's aftermath with different choices.  
The caricaturistic design of most characters defines an overall ironic tone of the film. For example, Grace and Pat, a pair of wealthy and superficial teenagers, exhibit extreme stupidity and ignorance toward the working-class struggles often verge on slapstick and serve the film's comic relief. However, dramatic acting suits the subject well—it is a film about pretending, after all. 
The Future of Standardized Tests?
Still, outside of France and Thailand, many countries struggle with an unfair testing system that tends to segregate students' abilities. Zooming out from the subject of standard testing, which is the focal point of criticism over students' vicious competition for higher scores, wealth is a main factor that contributes to a staggeringly toxic culture of competing for the best education resources. Some of the dirty tricks that the privileged class can pull are usually behind the scenes.
A recent New York Times article highlighted some psychiatrists who faked disability records for affluent clients' kids in order to gain extra testing time in high schools and colleges exams. The journey toward a fairer education system is never easy; it may call for a combination of education policy reform and affiliated professionals' integrity to effect changes. 
Rita Zhang is a writer based in New York.