In 1947, British India split into the modern day countries of India and Pakistan. Colloquially referred to as "partition," this fracture is still a contentious subject in India, with many reeling from partition's effects to this day. At the time, British India comprised 80% Hindus and 20% Muslims. Muslims grew worried about their potential loss of rights in the event of independence, and negotiated with Britain for a separate state after WWII ended. Mass chaos ensued, and millions of people were forced to relocate during the violent riots of 1947 to escape the mob lynchings carried out by a select few. The result was a religiously homogeneous Pakistan, despite the presence of mainly integrated communities pre-partition.
Sardar Ka Grandson centers around one such story of partition's complex legacy. In the movie, a man named Amreek Singh (Arjun Kapoor) tries to fulfill his grandmother Sardar's (Neena Gupta) dying wish: to once again see a house she lovingly built with her long-deceased husband before partition. Unfortunately, that house is now in Lahore, Pakistan and Sardar cannot obtain a Pakistani visa. In response, Amreek hatches a daring plan: he'll try moving the house back to India.
While this outlandish plot has potential, Sardar Ka Grandson simply fails to deliver a cohesive narrative, let alone emotional or comedic value. Furthermore, the film avoids any deep exploration of Sardar's partition-era past—missing a prime opportunity to make a substantial impact on India's social discourse around partition.
Logical Missteps and a Messy Cast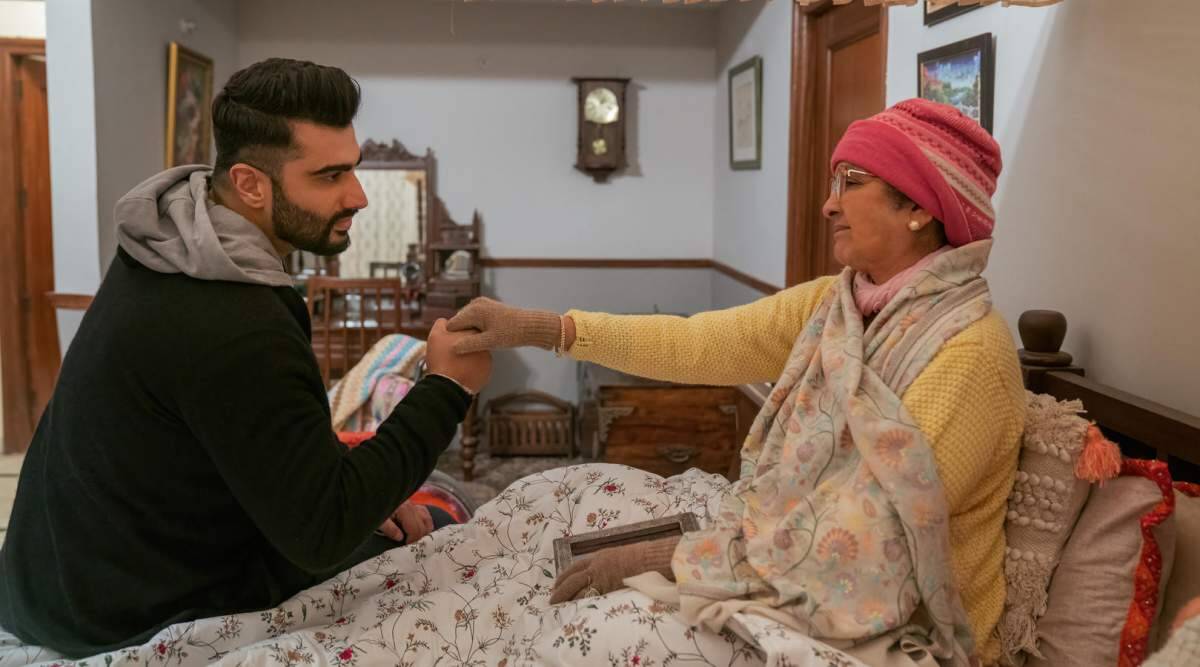 Sardar Ka Grandson's simple premise of a grandson transporting a house across borders lies atop a jumble of fallacies. For example, a taxi somehow cannot navigate the narrow alleys of Lahore, yet a tow truck carrying a house can do so with ease. Taken alone, these creative liberties might seem almost charming—but unfortunately they're just the tip of a jumbled iceberg.
Beyond Amreek and Sardar, the film introduces a bevy of characters at its outset. The audience meets numerous members of Amreek's extended family, and also his fiance Radha (Rakul Preet Singh). According to an offhand comment from Radha, Amreek has some "family issues"; there's also a subplot around Amreek possibly losing out to his cousin Lovely (Ravjeet Singh) on inheriting the family business. However, Sardar Ka Grandson never illuminates these issues, and only slightly leans into the drama that comes from the inheritance battle. These strands also distract away from the main narrative around moving Sardar's house from Pakistan to India.
Radha herself feels like an awkwardly added character. Her relationship with Amreek quickly disintegrates at the movie's outset, and we don't hear from her until Amreek tries reaching out to her for help relocating the house. She eventually miraculously appears in Lahore at a critical juncture of the movie without any clear rationale nor acknowledgement of their relationship's past challenges. This tangled mess of minimally developed characters with half-baked subplots prevents Sardar Ka Grandson from having any coherence to its narrative.
Lackluster Performances and Poor Execution
Lack of a lucid narrative isn't the only problem that plagues Sardar Ka Grandson. Poor acting and execution also blunt its emotional and comedic value. Though Amreek is supposed to share a close relationship with Sardar and be the favorite grandchild within the family, Arjun Kapoor's performance doesn't make this evident. Amreek's emotional scenes run dry. He almost too straightforwardly jumps upon Sardar's dying wish, travels to Lahore, and surpasses all the hurdles thrown his way without any hint of the soulfulness you'd expect from someone who's about to lose a loved one.
The film's supporting cast is also simply adequate as opposed to noteworthy. Veteran actress Neena Gupta does deliver a formidable performance as the older Sardar, but she cannot save the film from its own filminess. In fact, there's an awkward disconnect between the older Sardar and younger Sardar (played by Aditi Rao Hydari); though they're supposed to be the same character, their dialects are vastly different. Inconsistencies such as this one make Sardar Ka Grandson unconvincing, and prevent audiences from connecting to its emotional aspects.
Perhaps the film would've fared better if it leaned into its comedic side—but here too it falls short in execution. Though Sardar has a crazy, big Punjabi family that's constantly squabbling, Sardar Ka Grandson never runs with this potential. There are some fun segments like Sardar conversing with the family dog, but all the other family members are largely relegated to the background and don't enjoy opportunities to create either laughs or dramatic tension.
Effects of Partition Not Explored in Depth
Given its Netflix distribution and star power, Sardar Ka Grandson could've helped inject valuable energy into India and Pakistan's contemporary discourse about partition. By being mediocre, the film squanders this opportunity, and feels even more disappointing as a result.
For those unfamiliar with the topic, since 1947, India and Pakistan have had an agitated relationship at best. Bollywood has historically concentrated its efforts depicting partition in Punjab, where the violence was especially rampant. Most films concentrate on illustrating the trauma of partition, and frequently center around cross-border love stories.
Though romance blockbusters like Veer Zaara and Gadar: Ek Prem Katha do not demonize all Muslims, there is often a divide between "good" Muslims who inevitably relocate to India, and "bad" Muslims who are left behind in Pakistan. Textbooks in both countries present very different versions of partition, adding to the misconceptions created by film. In India, Gandhi is lauded as a valiant savior who single-handedly fought for India's independence, while Pakistani textbooks barely mention him. Hindus are depicted as "thugs" in Pakistani history books, while Indian books mainly detail the atrocities committed during partition, with little to no analysis of why it happened and how it still affect citizens today. As such, anti-Pakistan sentiments represented in film and education are largely reflective of Indian public sentiment. Seven decades after partition, Indians still see Pakistan unfavorably and disapprove when  Prime Minister Modi signals any desire to improve relations with Pakistan, even if it is mere posturing.
By focusing on a family story instead of romance, Sardar Ka Grandson had a chance to shift the narrative in a different direction. Unfortunately, on top of its messy plot and bad acting, the film ignores many of partition's intricacies and lingering traumas. It sprinkles in certain flashbacks of partition violence, but does not link them adequately back to character motivations in the present day. Interestingly, the film does show Pakistani locals defying a mid-level politician to help Amreek, perhaps encouraging Indian audiences to distinguish Pakistan's people from its government. But beyond that, Sardar Ka Grandson feels like a milquetoast family drama that just happens to use partition as a gimmick, and bears disappointingly little import.
•   •   •
---
Sardar Ka Grandson — India. Dialog in Hindi. Directed by Kaashvi Nair. First released May 18, 2021. Running time 2hr 20min. Starring Arjun Kapoor, Rakul Preet Singh, Neena Gupta, Aditi Rao Hydari, and John Abraham. 
Sardar Ka Grandson is currently streaming on Netflix.