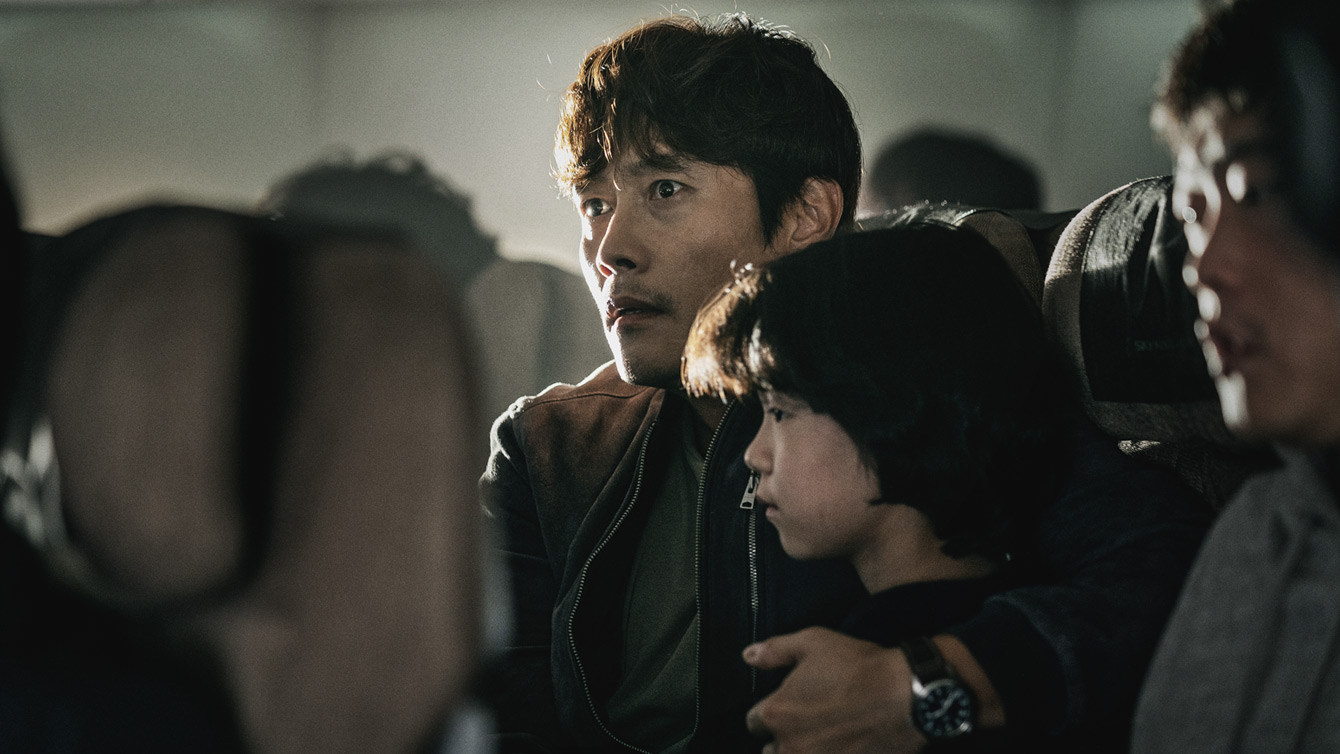 After getting an invite to the Out of Competition section at the 2021 Cannes Film Festival, Emergency Declaration was supposed to be one of the past year's marquee Korean blockbusters. However, COVID outbreaks delayed its release until now in August 2022—a darkly poetic fate for a movie that centers on an airplane continually denied permission to land due to a biological threat. Despite featuring big-name actors like Song Kang-ho (Parasite), Lee Byung-hun (A Bittersweet Life), Jeon Do-yeon (Beasts Clawing At Straws) though, Emergency Declaration fails to take flight. While the movie sports impressive visual effects and scratches at deeper themes, it requires too much suspension of belief to fully enjoy.
Sickness on a Plane
Emergency Declaration begins with shots of a crowded Incheon International Airport. A well-dressed young man named Jin-seok (Siwan of ZE:A) mills about, looking for a destination to fly to. There's something off about him; he bumps into a man named Jae-hyuk (Lee Byung-hun) and his young daughter, creepily finds out where they're going from a luggage tag, and decides he'll buy a ticket for their flight KI501 to Hawaii.
Meanwhile, a police detective named In-ho (Song Kang-ho) receives a tip about an internet video containing threats to attack an airplane. On a whim, he investigates—and discovers that Jae-hyuk is the video's creator and will release a deadly pathogen on a crowded flight.
In-ho is too late though. By the time he realizes Jin-seok is a suspect, flight KI501 is already airborne, and Jin-seok has already put his plan into motion. With passengers starting to die, Jae-hyuk and others aboard KI501 must find a way to stay alive. It's not an easy task. Despite the efforts of a dogged Transport Minister (Jeon Do-yeon), and even if there's a cure for Jin-seok's bioweapon, it's unclear if any airport will allow KI501 to land.
Plane to… Not Busan
It feels like Emergency Declaration wanted to be like the megahit zombie K-thriller Train to Busan, but swapped the train and zombies for a plane and hemorrhagic virus. The movie contains laudable special effects and visuals, for instance some action-packed shots of Japan Air Self-Defense Force (JASDF) F-2s and Republic of Korea Air Force (ROKAF) F-16s that you wouldn't find in any Western film with the same level of CGI quality. Like Train to Busan, Emergency Declaration also tries to touch on weighty themes, most notably the concepts of ostracism and sacrifice. We see bureaucrats on the ground make cold-hearted but logical decisions to help the many at the cost of a few, individuals who elect to sacrifice themselves for the good of the many, and human society—be it on the ground or aboard KI501—bicker and fragment in the face of these decisions. The film tries asking: is the virus that Jin-seok releases more deadly, or society's reaction to it?
However, Emergency Declaration's grapples with such matters feels too contrived. Train to Busan succeeded because it created compelling characters who embodied different dimensions of the moral spectrum (ex. most infamously an asshole businessman), and pitted them against each other. Emergency Declaration tries doing the same, but none of its characters—especially the villains—feel particularly fleshed out. There's a rough equivalent to Train to Busan's asshole businessman aboard KI501, but we learn nothing about him besides the fact he's an aggressively utilitarian asshole. There are some calculating bureaucrats, but they're just hollow suits with no character background. Even Jin-seok, the virus releaser, feels like an ill-constructed character; we learn  about his motivations and background through news reports that feel tacked-on as an afterthought.
Fly the Far-Fetched Skies
Furthermore, Emergency Declaration doesn't establish clear rules to its fictional universe, and key plot elements seem far-fetched. This makes it hard for the audience to suspend disbelief and fully enjoy the film. For example, Jin-seok's virus is supposed to have a rapid incubation period and time to death—but after one initial passenger dies rapidly, everyone else manages to stay alive for much longer. Pivotal government policy decisions also get made in slapdash manners, for instance using a human clinical trial with literally one subject (which is utterly unsafe given one person is not representative of a large population, and something most audiences will probably find puzzling given all the discourse around COVID vaccine development since 2020).
Geopolitical nerds will also find it amusing how the movie depicts the US and Japan (the latter far more aggressively, which is where those JASDF F-2s come in) respectively turning away KI501. The sudden callous decision-making that those two countries exhibit might be in line with Korean leftist political sentiment, but feel odd to anyone familiar with international aviation disaster protocol. In real life, there'd probably be plenty of options for KI501 to land on some isolated island for quarantine, with no need to have fighters strafe a civilian jet and cause an international incident.
While Emergency Declaration feels refreshing as a sort of mid-budget disaster movie that Hollywood doesn't make often these days, it pales in comparison to other recent Korean media touching on similar themes. If you'd like to see action-packed and morally complex disaster stories with compelling characters, you'd be better off watching Train to Busan, or even a K-drama like All of Us Are Dead.
•  •  •
---
Emergency Declaration (Korean: 비상선언)—South Korea. Dialog in Korean. Directed by Han Jae-rim. First released July 16, 2022 at the Cannes Film Festival. Running time 2hr 27min. Starring Song Kang-ho, Lee Byung-hun, Jeon Do-yeon, Kim Nam-gil. 
Emergency Declaration screens across North American theaters starting August 11, 2022, and started screening in South Korean theaters on August 3, 2022.