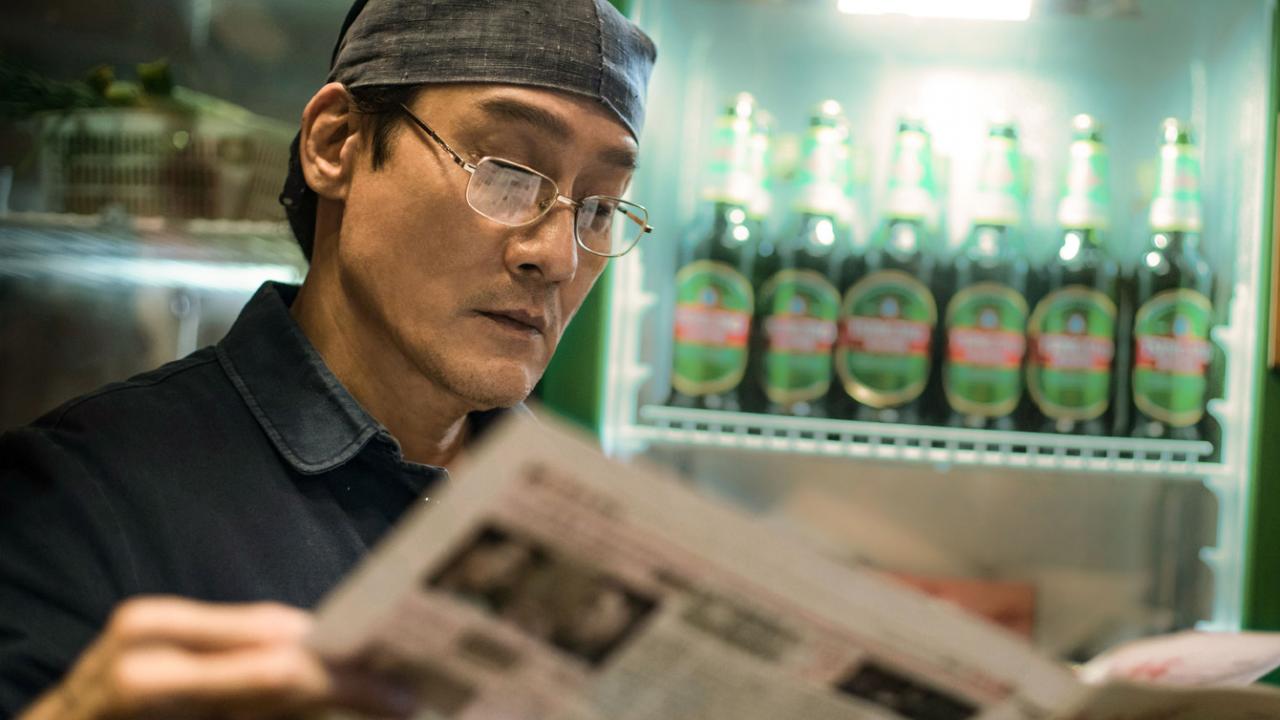 Following in the footsteps of an eponymous Japanese TV series, the Chinese cinematic remake of Midnight Diner (distinct from the Chinese television remake) seeks to explore human drama through the framing of cuisine. Huang Lei stars as the "Master," owner and chef of a late-night diner in Shanghai, serving everyone from local bao'an to young office workers. Like the original Japanese series, the Chinese Midnight Diner movie jumps between the life stories of each of the restaurant's patrons.
In the Chinese Midnight Diner, the Master serves customers whatever dish they desire as long as he has the ingredients to prepare it—just as he would in the Japanese version. In the opening scene, a group of three young office workers asks for "shrimp;" the Master dutifully prepares three different dishes with shrimp in them, based on his perception of each of his customers' personalities. 
We're introduced to a cast of regular characters beyond the office workers—an elderly uncle and bao'an frequent the shop, as well as a rather alcoholic single mother who regularly storms into the diner asking for carafes of baijiu. In between scenes at the diner, we're introduced to backstories of various other visitors, ranging from a pair of boxers, to a couple trying to survive in the high-cost world of Shanghai. 
At times, the Chinese Midnight Diner explores some deeper-seated cultural aspects of life in China, ranging from an increasingly challenged definition of masculinity to the ever-growing popularity of livestreaming (and the incomes of livesteamers), However,  the Chinese remake lacks depth and ultimately falls flat. Perhaps it's the short running time of a movie format, but Midnight Diner fails to explore the backgrounds, relationships, and outcomes of any of its characters in too much detail. 
As a result, we found it difficult to connect with the individual characters presented in Midnight Diner. There was no consistent plot across each of the stories either, making it different from ensemble-cast life drama films like Lan Kwai Fong (which, although shallow, offered a few consistent plot threads across the individual characters' stories). The Chinese movie also reduces the emphasis on food, with only cursory mentions of each dish that the Master prepares; thus it also fails as a film that might appeal to foodies. 
Ultimately, the Chinese remake of Midnight Diner pales in comparison to its Japanese origins. By missing out on character development and eschewing presentations of Shanghainese dishes (whereas the original version was a perfunctory introduction to casual Japanese cuisine), Midnight Diner fails to entertain both drama-philes and foodies. 
• • •
Midnight Diner is plays in select North American theaters starting September 20, 2019.
---
Midnight Diner (Chinese: 深夜食堂)—China. Dialog in Mandarin Chinese. Directed by Tony Leung Ka Fai. Running time 1hr 43min. First released August 30, 2019. Starring Tony Leung Ka-Fai, Deng Chao, Eddie Peng.