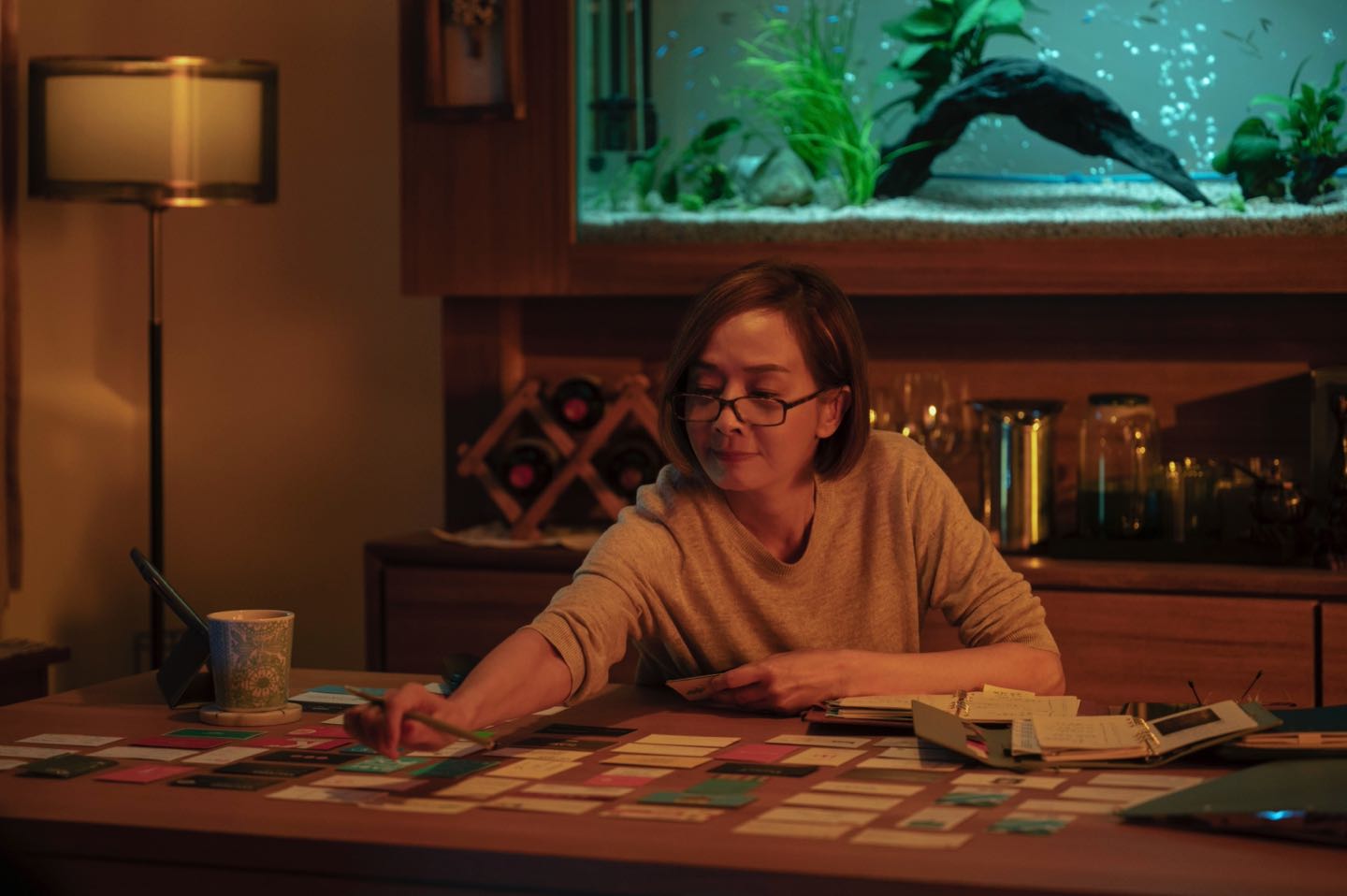 Mama's Affair is poised to be a great success at the Hong Kong box office, and maybe even one of the city's most important movies in 2022. That's because it stars two fresh faces from the boyband MIRROR. Although MIRROR's momentum has been halted after a terrible tragedy at their status-affirming concert, their meteoric rise to total cultural dominance in Hong Kong has nonetheless saved and revitalized the entertainment industry (or maybe even the city itself). Director Kearen Pang isn't far behind—after directing her award-winning debut film 29+1, the multi-hyphenate in theater appeared as a mentor on the talent show where MIRROR's members were discovered. Hence the distributor (alongside very fervent fan groups) has marketed Mama's Affair as pop entertainment, with a hint of arthouse elevatedness.
Unfortunately, Mama's Affair only succeeds at the former. It will certainly appease fans with its jokes, heart, and charm. But its attempts at depth are messy at best. The affair isn't literal—the story involves a retired talent manager Mei-fung (Teresa Mo) who re-enters the business and transforms waiter Fong Ching (Keung To) into a young idol, arousing the jealousy of her teenage son Jonathan (Jer Lau). Inspired by the work-life balance of MIRROR's manager Ahfa Wong, who has become a celebrity herself, the premise is certainly unique, but the tangential script and thoughtless visuals limit the film's emotional reach and maturity.
Groping Stumbles
The script tries to cover many ideas, from popstar idolatry to classic family repression. But the dramaturgy is too weak to support these themes. A Hollywood textbook three-act structure is obviously not required, especially not in world cinema, but it might greatly help Mama's Affair. After establishing the premise, the script starts to lose direction; it remembers conflict, but finds it in forced places. Subplots involving absent fathers and exam pressure struggle to fit together, and the main storylines drift further and further apart in the second hour, with Jonathan's almost rendered an afterthought. This means that his big emotional turn at the end falls flat and feels unearned.
Though the script has fundamental flaws, it tries to compensate with details. The film quite successfully establishes milieu; Mei-fung and Jonathan's firmly upper-middle class lifestyles are surprisingly accurate and authentic, with Pang getting the specifics of Jonathan's International Baccalaureate exams and global academic plans quite right. Compared to other recent Hong Kong films, the dialogue sounds like what actual people would say, with legitimately funny jokes and language-switching carefully coming from the right characters' mouths. With her sharp and repressed pen, Pang crucially and refreshingly avoids Hong Kong cinema's unrealistic penchant for constant screaming matches. The downside is that there's too much dialogue; the heavy doses of monologues and conversations exposes Pang's theatrical background, rendering the entire affair uncinematic.
Thematic Leaps
Among the elements that construct the film's milieu, there are a few that jump out noticeably. The film borrows and name-drops many items from Keung's own career, ranging from songs and music awards to his real fans being hired as extras in a fictional concert scene. There are plenty of references and celebrity cameos that are deep in Hong Kong pop culture lore. But the film stays at the level of cute name-checking, and never truly develops a metanarrative. Pop stars have frequently been cast as fictional pop stars in film, but Mama's Affair barely makes use of this angle. Though Pang uses real songs to playfully tamper with our suspension of disbelief, the forces behind the formation of a pop star remain mythical and elusive, the consequences ignored or surface-level. The film is entrenched in the industry, but makes no comment on it.
One can easily defend this by saying the film is not interested in celebrity culture or showbiz. But does it have anything meaningful to say about its main theme of family relations? The family conversations (and lack thereof) quite amazingly capture modern Confucian family repression, but they appear too sporadically and never deepen to coalesce into a solid argument. The film reveals tragic backstories, but spends too little time on them, so their resolutions are either hackneyed and too easy, or forgotten amidst the far-reaching canvas. The script has commendable thematic ambitions, but let's not mistake them for productive exploration.
Visual Failure
The film's disparate pieces are certainly not helped by its sorely lacking visuals. The first reel might be thematically relevant, but it's also the most aesthetically misjudged. It jumps from a slice-of-life long take, to a YouTube-ready quirky jump-cut montage, to a series of fourth wall breaks, and finally to coverage that violates basic 30º and 180º rules. Thankfully, Pang abandons this wild temperament afterwards, and settles on calmer, standard coverage with only the occasional blip. The aesthetic is handsome but autopilot with shallow depth-of-field and dolly shots; the production design is tasteful and meticulous, but also too polished and brand-new.
This means the film has almost no visual ideas; there is no visual strategy or personality. This is lethal for a film with such large swaths of dialogue—you can practically hear the stage lights and the quiet auditorium every time a character speaks. Without a visual plan, the film over-relies on an embarrassing amount of montage that recalls itself and still fails to land its emotional climax. It's rare for a Hong Kong film to exceed two hours, and it's definitely unwarranted towards the end of Mama's Affair.
The target audience may not care about any of the above, but they will surely be here for the stars' performances. Pang wisely adopts Keung's screen image and well-ironed smolder to her advantage; Keung accomplishes the one scene in which he is required to emote. Lau, stripped of his vocals as armor, struggles to keep up with his more demanding role. For the most part, he stays in variety TV mode, never really probing deep into Jonathan's psyche. Mentoring both is the veteran Mo, largely sidestepping TVB-style melodramatic extremes and giving a tempered performance.
True Aspirations
Mama's Affair may have ultimately been mismarketed; as commercial play, it delivers the laughs, the tears, and the caption-ready catchphrases. It's a good time for everyone; it's even rated G in Hong Kong. No Hong Kong film is apolitical these days, but this one is close—the colloquial Cantonese title and 100% Hong Kong setting are nonetheless localist. There has always been little space for middlebrow drama or non-genre urban life in Hong Kong cinema, so it's props to Pang for sticking to these roots. But compared to her debut film 29+1, Mama's Affair is even more theatrical and less cinematic, and speaks too much without getting to the point. Even for commercial cinema, Hong Kong has always and still can do better.
•  •  •
---
Mama's Affair (Cantonese: 阿媽有咗第二個)—Hong Kong. Dialog in Cantonese and English. Directed by Kearen Pang. First released 12 March 2022 at the Osaka Asian Film Festival, with theatrical release Aug 11, 2022 in Hong Kong. Running time 2hr 6min. Starring Teresa Mo, Keung To, and Jer Lau.
This article is part of Cinema Escapist's dedicated coverage of the 2022 New York Asian Film Festival.