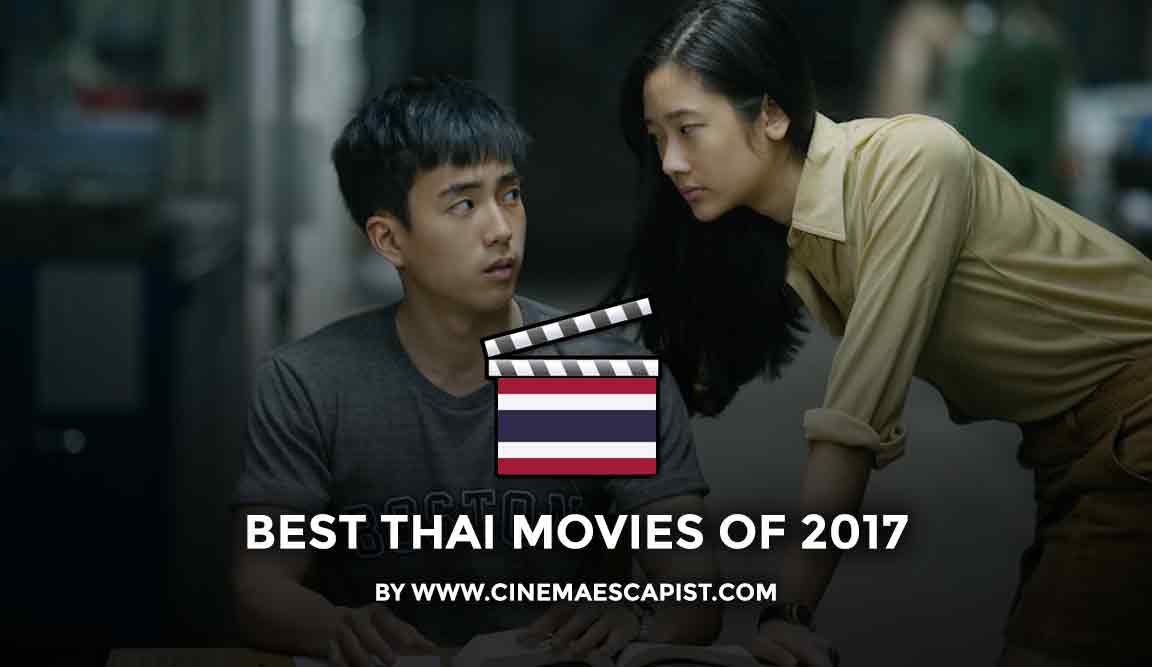 You may not be familiar with the country's film scene, but Thailand's movie industry came out with a relatively respectable selection of films in 2017. Beyond domestic hits and art house darlings, some of 2017's top Thai movies also enjoyed success in Asia at large.
So, what are the best Thai movies of 2017? Cinema Escapist took a look at some worthy contenders across multiple genres and compiled this list of eight Thai movies that are worth your time. Whether you want a rom-com or thriller, a horror movie or action movie, this list will have you covered.
•   •   •
8. Mr. Hurt
Thai title: มิสเตอร์เฮิร์ท มือวางอันดับเจ็บ | Starring: Sunny Suwanmethanont, Mashannoad Suvalmas, Marie Broenner
Want a low-commitment romantic comedy? Mr. Hurt might fit your bill. In short, the movie is pretty much like a Thai version of the hit American rom-com Forgetting Sarah Marshall. 
Popular Thai actor Sunny Suwanmethanont stars as our protagonist Don Sri-Chang, a professional tennis player with an attractive girlfriend. When his girlfriend turns his marriage proposal down and dumps him for a rockstar, Don falls into despair… until a new girl pops into his life.
Mr. Hurt relies heavily on fart jokes and slapstick comedy. However, if you're looking for pure entertainment, it's a good bet.
7. Siam Square
Thai title: สยามสแควร์ | Starring: Morakot Liu, Eisaya Hosuwan and Nothasit Kotimanuswanich
Siam Square is a renowned shopping district in Bangkok, equivalent to Tokyo's Shibuya or New York City's SoHo. Besides shops, Siam Square also has a lot of cram schools, where students study for Thailand's competitive university entrance exam.
The 2017 Thai horror movie Siam Square takes its name from this district and its cram schools. Its protagonists are a group of students cramming for the Thai college entrance exam. They catch wind of an urban legend: if you worship a certain evil spirit that lurks around Siam Square, you can increase your chances of passing the exam. Of course, since this is a horror movie, these students decide to investigate that legend… and get more than they bargained for.
If you're looking for a movie that mixes familiar elements of Asian upbringing (i.e. prepping for tests) with spine-chilling horror, check out Siam Square.
6. The Promise
Thai title: สยามสแควร์ | Starring: Numthip Jongrachatawiboon, Apichaya Thongkham, Thunyaphat Pattarateerachaicharoen
If mixing students with horror isn't your thing, then how about mixing economics with horror? That's one way to describe The Promise, a riveting 2017 Thai horror movie whose plot piggybacks on a pivotal moment in Thailand's recent economic history.
In 1997, Thailand befell the Asian Financial Crisis when its currency (the Thai bhat) collapsed amidst massive speculative attacks. Hundreds of thousands of Thais lost their jobs, and formerly robust GDP growth screeched to a halt.
The Promise centers around a suicide pact that two girls named Ib and Boum made during this crisis. As their families' finances imploded, the two vowed to kill themselves together, but only Ib followed through. 20 years later, Ib comes back to haunt Boum, who now also has a 15 year-old daughter.
Another interesting tidbit: The Promise also features the abandoned Sathorn Unique Tower, perhaps Bangkok's most famous urban exploration destination. This 47-story tower's construction came to a standstill because of the 1997 Asian Financial Crisis; it's a haunting reminder of economic collapse that still looms over Bangkok's skyline.
5. Broken Sword Hero (Thong Dee Fun Khao)
Thai title: ทองดีฟันขาว | Starring: Buakaw Banchamek, Sornsin Maneewan, Nantawut Boonrubsub
We move from horror to action with Broken Sword Hero, also known as Thong Dee Fun Khao. In this Muay Thai martial arts flick, we watch a young runaway grows into a legendary fighter who ends up becoming a commander under one of Thailand's greatest kings.
Broken Sword Hero's protagonist was inspired by a real-life warrior named Phraya Pichai ("White Teeth") from Thailand's Ayutthaya period, around the 1700s. If you want to see some entertaining fighting (though admittedly there's a really large amount of slow-mo) and learn about Thai history in the process, Broken Sword Hero is a good option.
4. Oversize Cops
Thai title: โอเวอร์ไซส์-ทลายพุง | Starring: Sarun Cinsuvapala, Nutjaree Horvejkul, Somyos Matures
From action we transition to comedy—buddy cop comedy, to be specific. Oversize Cops has a pretty descriptive title. The movie features four obese police officers whose girths start getting in the way of their careers.
In order to continue down the path of police work, our four bumbling protagonists must get fit and get investigating. Along the way they also meet a fitness trainer played by Nutjaree Horvejkul, sister of K-pop boy band 2PM's Nichkhun.
While its acting sometimes feel choppy, Oversize Cops comes at its story with a big heart. It playfully balances the need to lose weight with a message of accepting yourself for who you are, offering an overall uplifting message alongside ample laughs.
3. Pop Aye
Starring: Penpak Sirikul, Thaneth Warakulnukroh, Thaneth Warakulnukroh
A co-production between Thailand and Singapore, Pop Aye is a heartwarming indie film about a man and his elephant friend. Thana is a middle-aged architect who's burnt out from life. One day, he stumbles upon an elephant in Bangkok—which turns out to be his childhood companion Pop Aye.
Inspired, Thana takes Pop Aye on a wistful journey across Thailand, back to the village where they grew up together. Along the way, they meet various intriguing characters who bring more flavor to their lives.
Pop Aye offers a good amount of thoughtful commentary around aging, coping with the past, and human nature. But more than anything else, the elephant who plays Pop Aye steals the show. Sometimes, it just takes a gentle pachyderm friend to help us humans explore the meaning in our lives.
2. Die Tomorrow
Starring: Sunny Suwanmethanont, Patcha Poonpiriya, Sirat Intarachote
Director Nawapol Thamrongrattanarit is most famous for his 2015 unique romance Heart Attack. At least rhetorically, it seems like he's moving a step beyond that with his latest piece Die Tomorrow, a decidedly more indie film.
Die Tomorrow is not a singular narratives but rather an anthology of stories about the last days of peoples' lives. These stories were supposedly inspired by newspaper headlines between 2012-2016; although it addresses death, the movie is more uplifting than you might think. Sure, it's not a full of saccharine happiness, but it explores the depths of human connection in ways that only those who are about to lose that connection can embody.
1. Bad Genius
Thai title: ฉลาดเกมส์โกง | Starring: Chutimon Chuengcharoensukying, Chanon Santinatornkul, Teeradon Supapunpinyo, Eisaya Hosuwan
We top off our list of Thailand's best movies from 2017 with Bad Genius—which should come as no surprise to anyone familiar with Thai cinema.
Bad Genius was the highest-grossing Thai movie of 2017—not just domestically, but all around Asia. In fact, it broke records for the highest-grossing Thai movie ever in multiple Asian markets like Taiwan, Hong Kong, Vietnam, and China (it earned $30 million USD in China alone).
What's so appealing about Bad Genius? Besides high production quality and excellent acting, the film harnesses themes familiar to global—especially Asian—audiences. In short, Bad Genius is an exam cheating heist thriller. Its protagonists are a group of Thai students who devise an ingenious scheme to cheat on an international university admissions test and earn millions of bhat along the way.
Given the prevalence of high-stakes summative exams in Asian countries and the easy appeal of heist narratives, it's no wonder audiences in the region gobbled this movie up. When you spend most of your childhood prepping for test like the Gaokao or Suneung, watching a movies where characters creatively elevate themselves above this boredom provides great emotional release.
If you want to learn more about Bad Genius, read our interview with Nattawut Poonpiriya, the film's director.
•   •   •
Like this list? "Like" our Facebook page for more Asian film info.
Want to watch Korean movies instead? Check out the Best Korean Films from 2017!
•   •   •
Note: this article has Amazon affiliate links. If you make a purchase through one of these links, Amazon gives Cinema Escapist a referral commission. This is how we help keep our operations running, so we thank you in advance for your support.