A few years ago, I was traveling around the Balkans and, by sheer chance, ended up in Mostar— a city in the country of Bosnia and Herzegovina. As I walked through Mostar's central park, I came across something I never expected to see: a statue of Bruce Lee!
So many questions went through my mind. Why was there a statue of Bruce Lee in the middle of a park in Bosnia and Herzegovina? How did it end up here? Why had I never heard of it before? The more I looked into it, the more unbelievable the story became…
Larger Than Life
I have always been a Bruce Lee fan, ever since my uncle first gave me Enter The Dragon on VHS at an incredibly irresponsible young age. Like millions of people around the world, I saw Bruce Lee as an inspiration, an icon who forever changed the world's perception of what an action star could be.
For many, heroes  no longer had to be white, stand 6'2″, look like John Wayne, and be a crack shot with a gun. Instead, they could be short, have a wiry build, and use their body as their weapon! It is no surprise that, in the 45 years since his death, Bruce Lee's mythos has only grown.
Millions of fans pore over the five iconic films of his back catalog: The Big Boss, Fist of Fury, Way of the Dragon, Enter The Dragon, and Game of Death (which Lee died mid-way through making); many also practice the martial art that he founded, Jeet Kune Do. However, while I knew Bruce Lee had international appeal, I certainly didn't expect a statue of him in the middle of the Balkans.
A City Divided
Today, Mostar is a stunningly beautiful city surrounded by picturesque hills and mountains. The city's centerpiece is the striking 16th century Ottoman Stari Most (Old Bridge) that spans the Neretva River. On a hot summer day, young men jump from the 24 meter high apex of the bridge into the water below, while locals and tourists alike sun themselves on the banks drinking cold beer and eating grilled meat.
However, this wasn't always the case.
In 1992, Bosnia and Herzegovina declared independence from Yugoslavia, and tensions flared between the country's ethnic groups: the Croats, Bosniaks, and Serbs. It wasn't long until political and ethno-social grievances led to Bosnian Croats and Bosniaks turning on each other. Soon regional fighting erupted into the Croat-Bosniak War.
Mostar exploded into violence and the city became split along ethnic lines, with Croats seizing the west and Bosniaks holding the east. Constant gun battles and artillery fire led to widespread devastation. Even the city's most iconic structure, the historic Stari Most bridge, was destroyed in November 1993 (although it would later be rebuilt in 2004). By the time the conflict ended in 1994, over 2,000 people had died in Mostar, and the city remained in a state of social and ethnic unrest.
This uneasy peace was still par for the course in 2004 but, as with many peace movements through the years, change came from the city's young people. A youth group called Urban Movement Mostar decided that they would finance and build a statue in the city to unite Mostar's assorted factions under a symbol that everyone could rally behind. The group proposed numerous subjects like The Pope and Mahatma Gandhi, but eventually the people settled on a man that all factions loved: Bruce Lee.
Kung Fu Crazy
It wasn't just his ability to kick ass and take names that made Lee an icon to people all around the world. Lee embraced the philosophies of both Eastern and Western cultures, mirroring his own mixed heritage, and taught tolerance and inclusion. In a time when most people focused on what made everyone different, Lee wanted to unite the world through the beauty of Eastern culture, specifically martial arts.
After his death in 1973, Bruce Lee became an icon around the world. Enter The Dragon was an international smash hit and the films he made in Hong Kong soon became widely available, especially with the birth of VHS.
During the 70s, many people in communist Yugoslavia became massive fans of Hong Kong martial arts films thanks to a black market of pirated VHS tapes. Young men all over the Balkans became very familiar with Bruce Lee's films. As a result,  martial arts became and remains a popular pastime in Bosnia and Herzegovina, where MMA star Mirko Filipović has a dedicated following.
Interestingly, in the poll that Urban Movement Mostar put forward, Bruce Lee was the only figure that all ethnic groups embraced. In an interview with the BBC, Veselin Gatalo of Urban Movement Mostar said, "we will always be Muslims, Serbs or Croats, but one thing we all have in common is Bruce Lee."
However, not everyone was convinced
Speaking to The Telegraph in 2004, Alija Bijavica from SUBNOR, an organization representing World War II veterans and their relatives, said that the Bruce Lee statue was inappropriate as he "did not fight for this country."
"Many of our Second World War monuments have been destroyed over the years," said Bijavica. "We believe it would be better to restore some of them than to erect a monument to Bruce Lee."
However, Urban Movement Mostar, rejected that idea given people in the region had fought for different sides during WWII (Yugoslav communists fought with the Soviets, while some Croats collaborated with the Nazis). As such, a World War II statue might further inflame tensions.
As Urban Movement Mostar's Vesilin Gatalo said, Bruce Lee was "far [enough] away from us that nobody can ask what he did during World War II!"
"The [Bruce Lee] monument is an attempt to question symbols, old and new, by mixing up high grandeur with mass culture and kung fu," said Nino Raspudic of Urban Movement Mostar.
Breaking New Ground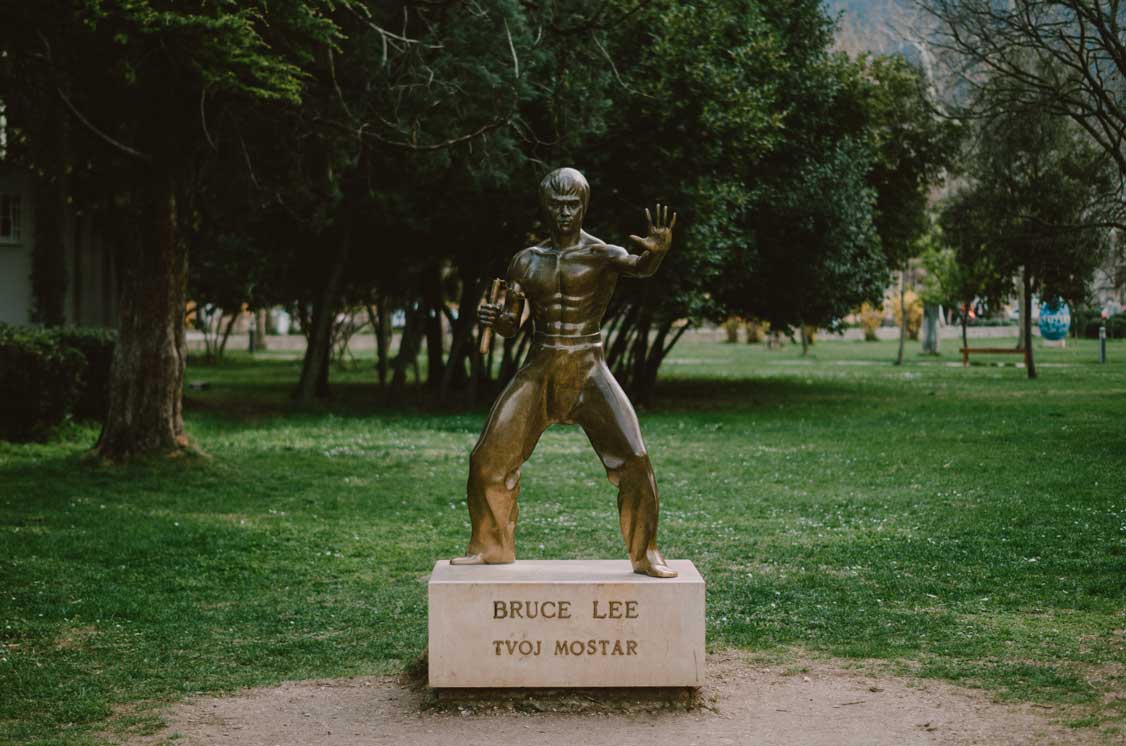 After raising over £4,000 from various donors (including the German government) and commissioning Croatian sculptor Ivan Fijolic to build it, Urban Movement Mostar finally unveiled the Bruce Lee statue on Saturday, November 26, 2005— one day before what would have been Bruce Lee's 65th birthday. The Mostar statue also had the distinction of being the first Bruce Lee statue to be showcased to the world, one day ahead of a similar statue on Hong Kong's Avenue of Stars.
Mostar's bronze statue, which stands at 1.68 meters, slightly shorter than Bruce's actual height of 1.72 meters, was placed in the Spanish Square—which lies between the city's Croat and Bosniak areas.
Before the unveiling, Croat and Bosniak leaders complained that the Bruce Lee statue was a "provocation" because of his aggressive martial pose. When asked if the statue would the eastern Muslim side or the western Catholic side, Nino Raspudic simply noted, "It will face north."
The ceremony was a media circus, with ambassadors from China and Germany, as well as thousands of Bruce Lee fans, in attendance.
On that day, Veselin Gatalo said to The Telegraph: "We hope that the good feeling [Bruce Lee] gives will encourage communication between two divided sides of the city. He was not associated with any particular political parties [and] we hope [he] will be the main attraction in our rebuilt city of Mostar."
Apart from one instance of vandalism, that led Mostar to move the statue from Spanish Square to Zrinjevac Park, it seemed like the statue did indeed unify the city. As one Bosniak Muslim resident said to Agence France-Presse, "for a moment it did not matter who is Muslim and who is Croat."
Said one reporter upon the statue's unveiling, "building civil society never seemed so weird: Here was a life-sized bronze statue of a topless American immigrant paid for by the German government and christened by a Chinese diplomat, erected at the behest of a dysfunctional community of Croats, Serbs, and [Bosniak] Muslims."
Today, the statue still stands in the heart of Mostar, continuing to act as a symbol of solidarity for a city that has deep-rooted divisions to this day. Only Bruce Lee could have that impact and legacy.
Timon Singh runs The Bristol Bad Film Club in the UK, which screens cult movies every month to raise money for local charities. Timon's first book, Born To Be Bad: Talking to the Greatest Movie Villains in Action Cinema, is currently available for purchase.