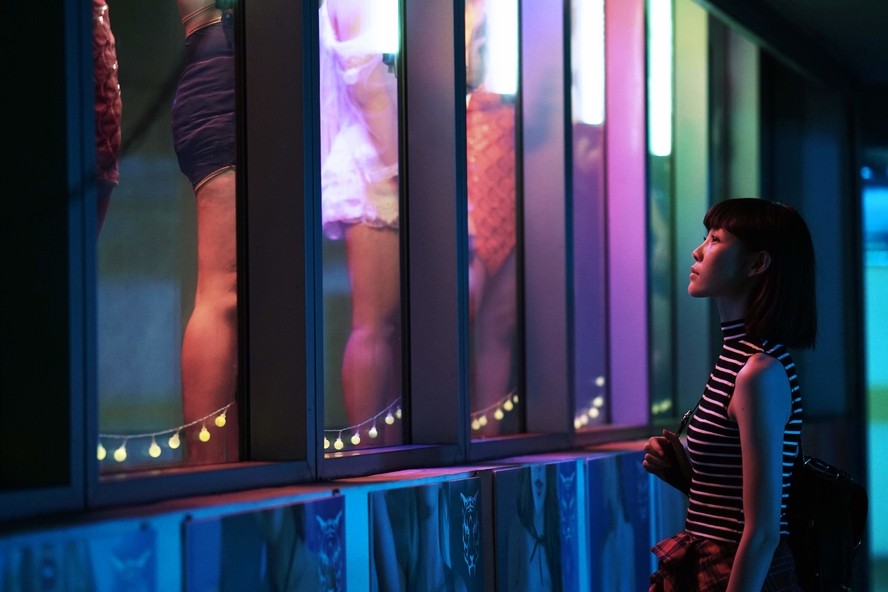 Far away from Macao's glitzy casinos and resorts lies a seedy underbelly: Macao's saunas. Tucked away in three-star hotels or nondescript commercial buildings, these establishments offer their patrons massages and relaxation—but most importantly, sex. Ina and the Blue Tiger Sauna takes place in the backdrop of such a sauna. The titular protagonist, nineteen year old Ina, occupies her life by playing in string orchestra and spending time with her friends. However, her father suddenly passes away, leaving her to realize he gained much of his wealth by running the Blue Tiger Sauna. Ina quickly becomes embroiled in the shady underworld of Macao. She has to fend off human traffickers who abuse her sauna girls, as well as rival criminal enterprises who want to corner the sauna industry by putting her out of business.
On the surface, Ina and the Blue Tiger Sauna appears to be a feminist film. After all, it features a strong female character taking over what is essentially a brothel, fighting off men who would seek to exploit the women. However, the female-empowerment elements of the film are woven into the background of the film, rather than sitting front-and-center. 
One might also mistake Ina and the Blue Tiger Sauna for a coming-of-age film, given how quickly the teenaged Ina is thrust into her new role and all the new challenges she faces overnight. However, it falls more closely into the neo-noir genre. Ina has her father's older and more mature assistants to guide her through the transition to leadership, and her struggles tie more closely to her personal moral compass than to her inexperience and youth. 
In a statement, directors António Caetano de Faria and Bernardo Rao said they hoped Ina and the Blue Tiger Sauna would not only showcase the "remarkable talent and creativity" of Macao, but also its "unique features as a backdrop to tell beautiful and interesting stories." Indeed, compared to neighboring mainland China and Hong Kong, Macao passes the mark of "unique" and borders on otherworldly. Its casinos are more glamorous than their peers in Las Vegas (funded by high rollers from mainland China), and the autonomous region of China boasts the second-highest GDP per capita in the world. But the world tends to overlook Macau, especially when filmmakers and artists are more familiar with her larger neighbors. 
Ina and the Blue Tiger Sauna isn't a perfect movie by any measure. While the cinematography was artful, the screenwriting left room for improvement. The plot advances too quickly and Ina doesn't face enough meaningful challenges on her way to taking over leadership of the sauna. The ending is also weak, and expresses a degree of naiveity about the lives of sex workers. 
That said, it's unfair to hold Ina and the Blue Tiger Sauna to the bar of Hollywood or Chinese blockbusters. According to Macau Business, the film was produced with a grant sponsored by the Macao Cultural Industry Fund. The film falls squarely in the domain of indie films, and by that standard Ina and the Blue Tiger Sauna is an admirable entry that punches above the weight of a city whose population barely counts over six hundred thousand. While the film does fall short on plot, it makes up for that by showcasing highlights of Macanese culture—from Catholicism brought over by Portugese colonizers, to the seedy industries that power the city's economy. 
On the 20th anniversary of Macao's return to Chinese sovereignty, and optimistic news for the city's future, Ina and the Blue Tiger Sauna shows us that Macao can be more than a tourist destination or financial hub—it can be a culture center as well.
•  •  •
---
Ina and the Blue Tiger Sauna—Macao. Dialogue in Cantonese Chinese. Directed by António Caetano de Faria and Bernardo Rao. Running time 1 hr 32 mins. Screened December 6, 2019 at the International Film Festival and Awards Macao. Starring Eliz, Lao I Lum, Kam Kwok Leung, Li Feng, Tsang Wai Dick, Lee Ka Wai, and Awet Ho.