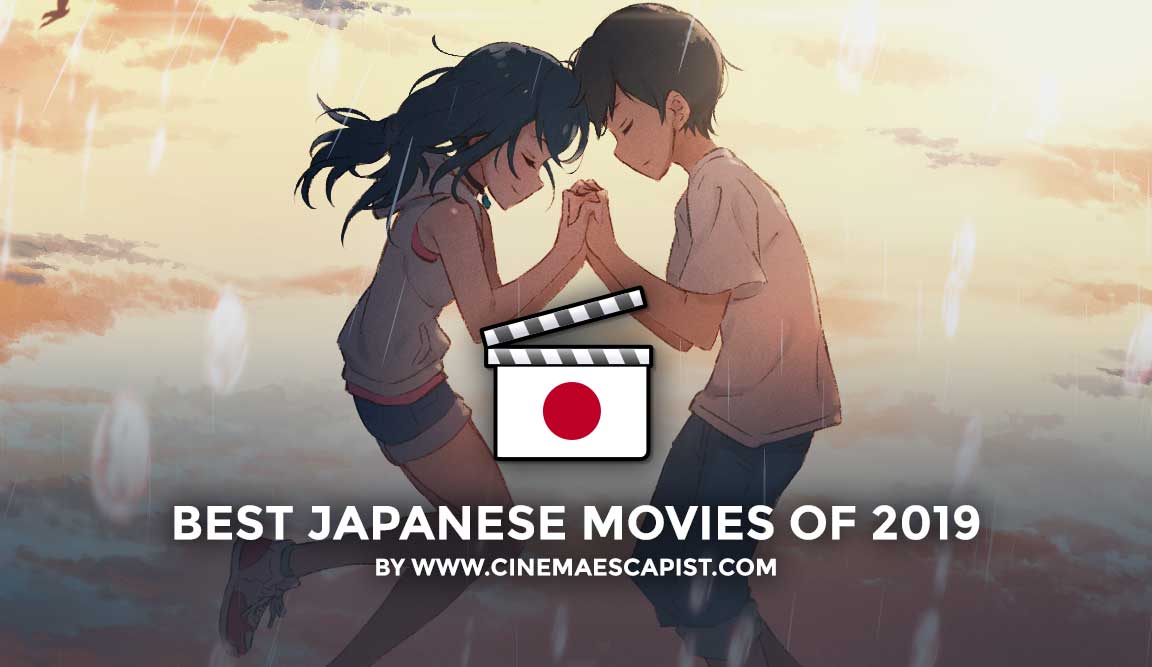 2019 heralded a new era for Japan, thanks to an imperial transition. Amidst these changes, Japan remains a cinematic stalwart. Though it may not get as much buzz as neighboring Korea's, Japan's movie industry commanded a respectable output this year.
A question naturally arises: which are the Best Japanese Movies of 2019?
Cinema Escapist has an answer. Across genres like comedy, animation, action, romance, and more—we've compiled this list of the top 11 Japanese movies from 2019. These films represent the range that Japan had to offer in 2019, and include both independent movies and big blockbusters. Let's take a look.
•   •   •
11. Masquerade Hotel
Japanese Title: マスカレード・ホテル (Masukaredo Hoteru) | Director: Masayuki Suzuki | Starring: Takuya Kimura, Masami Nagasawa, Fumiyo Kohinata | Genre: Crime, Mystery
Masquerade Hotel kicks off our list of 2019's best Japanese movies. Adapted from a bestselling novel by Keigo Higashino, this murder mystery blends charm and high production quality for a generally entertaining experience.
A-listers Takyua Kimura and Masami Nagasawa respectively star as a police detective named Kosuke Nitta and a hotel concierge named Naomi Yamagishi. Nitta is chasing down a serial killer, and discovers the next killing will occur at the fancy hotel Yamagishi works at. To catch the killer, Nitta goes undercover as a hotel employee under Yamagishi's supervision. This causes amusing friction, as Nitta's skepticism of humans contrasts with Yamagishi's belief that "the guest is always right."
While its plot isn't super suspenseful or complex, Masquerade Hotel still became one of Japan's highest grossing movies in 2019. Audiences can easily follow its storyline, its characters have good chemistry, and it has decent pacing.
10. Fly Me To The Saitama
Japanese Title: 翔んで埼玉 (Tonde Saitama) | Director: Hideki Takeuchi | Starring: Fumi Nikaidō, GACKT, Yusuke Iseya, Masaki Kyomoto | Genre: Comedy, Drama
Viewers curious about Japanese culture should consider Fly Me To The Saitama. This quirky comedy is one of the most "Japan-centric" movies on this list, as it plays on Japanese regional stereotypes.
A bit of explanation—Saitama is a prefecture next to Tokyo. For Americans, Saitama is to Tokyo as New Jersey is to New York City. Tokyoites often look down on Saitama as uninteresting and lame. Sometimes they call the prefecture "Da-Saitama"—a play on words that roughly translates as "lame Saitama."
Fly Me To The Saitama takes this regional rivalry to the extreme. The movie takes place in a world where people from Saitama need special visas to enter Tokyo, and face overt discrimination. In the film, a former Saitama resident comes back from studying in America. At a posh boarding school, he becomes rivals with the son of Tokyo's governor. Their rivalry ends up igniting regional tensions in hilarious and action-packed ways. Viewers who enjoy samurai movies, "boys love" anime, or simply delving into Japanese culture will especially enjoy Fly Me To The Saitama.
9. A Long Goodbye
Japanese Title: 長いお別れ (Nagai Owakare) | Director: Ryota Nakano | Starring: Yu Aoi, Yuko Takeuchi, Chieko Matsubara, Tsutomu Yamazaki | Genre: Family, Drama
With a rapidly aging population, Japan has seen many representations of dementia on film. A Long Goodbye is one of them. This movie has vague hints of Yasujiro Ozu and Hirokazu Kore-eda's explorations of imperfect families, albeit with a less artistic and more saccharine flavor.
Consistent with its title, A Long Goodbye explores the seven year-long mental decline of Shohei, a retired middle school principal. We see Shohei's two daughters Fumi and Mari—who respectively live in Tokyo and the US—step up to care for him, whilst facing romantic and family challenges of their own. Mari's struggles in adapting to life in the US while balancing family obligations "back home" may especially resonate for Asian diaspora audiences.
While A Long Goodbye might feel a bit sweetly sentimental at times, that probably makes the film more accessible for everyday audiences. Overall, A Long Goodbye is a well-paced, cleanly produced take on a family health challenge that's not only relevant for Japan, but also beyond.
8. Hit Me Anyone One More Time
Japanese Title: 記憶にございません!(Kioku ni Gozaimasen)| Director: Koki Mitani | Starring: Kiichi Nakai, Dean Fujioka, Yuriko Ishida | Genre: Comedy, Political, Drama
Overt political comedy isn't very common in Japanese media. That's why Hit Me Anyone One More Time is worth highlighting. While not as acerbic as Korean or American political comedies, the film gives some hope to anyone who wants Japan to make fun of its politicians more.
At the film's start, Keisuke Kuroda is the boorish, philandering, and horribly unpopular (with a 2.3% approval rating) Prime Minister of Japan. During a speech, Kuroda gets hit by a rock. He wakes up with his adult memories gone, and starts coming to terms with his past self.
Unfortunately, Hit Me Anyone One More Time shies away from skewering actual politicians. The closest parallel it has to the real world is having a female opposition leader who vaguely resembles the Democratic Party of Japan's Renho. Otherwise, Prime Minister Shinzo Abe and the ruling Liberal Democratic Party remain unscathed. Nevertheless, Hit Me Anyone One More Time provides satisfying if not subversive entertainment with accessible jokes and a unique premise.
Learn more in our full review of Hit Me Anyone One More Time!
7. To The Ends of the Earth
Japanese Title: 旅のおわり世界のはじまり (Tabi no Owari Sekai no Hajimari) | Director: Kiyoshi Kurosawa | Starring: Atsuko Maeda, Shota Sometani, Tokio Emoto, Ryo Kase | Genre: Drama
Part satire, part travelogue, and part musical, To the Ends of the Earth feels as sweeping yet intimate as its setting. Commissioned in part to celebrate 25 years of diplomatic relations between Japan and Uzbekistan, the film stars former AKB48 idol Atsuko Maeda as a travel show host named Yoko who journeys around the vast steppes and packed bazaars of Uzbekistan.
At first, Yoko puts on a smiling, Eat Pray Love-esque act in the style of Japan's notoriously superficial travel shows. She searches for a mythical fish, samples local delicacies, and tries a carnival ride. The act stands on shaky ground. The fish doesn't show up, the delicacies are undercooked, and the ride causes Yoko to puke. Exhausted and anxious yet determined to extract meaning out of her travel, Yoko embarks on her own tour of Uzbekistan. Along the way, she confronts her prejudices about Uzbekistan and explores her aspirations to become a singer.
Atsuko Maeda plays Yoko admirably; perhaps her own experiences of braving Japan's entertainment industry came in handy. Though not as evocative, To the Ends of the Earth contains thematic parallels with Lost in Translation and will appeal to those looking for exotic but not sensationalized stories of self-discovery.
6. First Love
Japanese Title: 初恋 (Hatsukoi) | Director: Takashi Miike | Starring: Masataka Kubota, Nao Ōmori, Shota Sometani | Genre: Action, Drama
Renowned filmmaker Takashi Miike returned in 2019 with First Love. The movie continues Miike's signature blend of cartoonish violence and dark humor. It tells the story of a young boxer named Leo who falls in love with Monica, a call girl embroiled in a drug smuggling operation. Over a single night, Leo and Monica run around Tokyo with a corrupt police officer, yakuza members, and Chinese triads in pursuit.
Despite its title, First Love has minimal romance. Instead, it has plenty of hilariously dark and blood-splattered violence. While viewers looking for a love story might be disappointed, those who want a highly entertaining action flick will adore First Love. The movie's action scenes have excellent choreography and cinematography; every minute entertains.
Learn more about First Love in our full-length review.
5. Promare
Japanese Title: プロメア (Promare) | Director: Hiroyuki Imaishi | Starring: Kenichi Matsuyama, Taichi Saotome, Masato Sakai, Ayane Sakura| Genre: Anime, Action, Sci-Fi
The debut feature of anime producer Studio Trigger, Promare offers a colorful and action-packed addition to our list of 2019's best Japanese movies.
Set in a sci-fi dystopia, Promare depicts the struggle between a group of fire-mutant terrorists and a firefighting rescue team. When Galo Thymos, the rescue team's rookie, captures terrorist leader Lio Fotia, he discovers there's more to this battle with fire than he initially realizes.
Besides great chemistry between Galo and Lio, Promare contains not only lively action but also commentary on topics like climate change and genocide. Its animation style is also quite distinctive, and feels like an epic exploding candy store.
To learn more about Promare, read our comprehensive review.
4. Kingdom
Japanese Title: キングダム (Kingudamu) | Director: Shinsuke Sato | Starring: Kento Yamazaki, Ryo Yoshizawa, Masami Nagasawa, Kanna Hashimoto | Genre: Action, Adventure
Adapted from a popular manga, Kingdom was the third highest grossing film at Japan's 2019 box office. Despite being a Japanese movie, Kingdom dramatizes the life of Li Xin—a general for the Qin during China's ancient Warring States period.  The film traces Li's rise from poor orphan to military leader, highlighting friendships and battles he has along the way.
Given historical strife between the two nations, it's a bit weird to see Japanese people acting out Chinese history. Alas, Kingdom may have benefitted from warming Sino-Japanese ties; part of the film was shot in China's famous Xiangshan Film and Television Town.
Geopolitics aside, Kingdom operates at an epic scale with high energy. The movie proceeds from one fight sequence to another, showcasing intricate swordplay and martial arts prowess amid sweeping battlescapes. A mix of Akira Kurosawa's The Hidden Fortress and Zhang Yimou's Hero, Kingdom is 2019's best non-animated action film from Japan.
3. We Are Little Zombies
Japanese Title:ウィーアーリトルゾンビーズ (Wî â Ritoru Zonbîzu) | Director: Makoto Nagahisa | Starring: Keita Ninomiya, Satoshi Mizuno, Mondo Okumura, Sena Nakajima | Genre: Drama, Music, Coming-of-Age
Quirky and darkly delightful, We Are Little Zombies is a memorable Japanese indie gem. The film captivated international critics at 2019's Sundance Film Festival, and also won a special mention at the Berlin International Film Festival.
We Are Little Zombies begins with four 13-year old kids meeting outside a crematorium. They bond over a shared disdain for their late parents, who are burning inside. Distrustful of adults and determined to live their own way, the quartet end up forming a chiptune band named "Little Zombies." A dark humored and poignant exploration of grief and youthful nihilism ensues.
Besides an emotionally layered plot, We Are Little Zombies showcases fantastically distinctive cinematic technique. The film unfolds in "stages" reminiscent of a video game; each has its own title screen. Costumes and color choice take on a psychedelically vibrant feel, as if cluster bombed with rainbows. When the film shifts settings, it toggles across different artistic styles. One moment we see a birds eye-view shot, the next we're in a stop motion universe. There are no dull moments in We Are Little Zombies.
2. 37 Seconds
Japanese Title: N/A | Director: Hikari | Starring: Mei Kayama, Misuzu Kanno | Genre: Drama, Romance, Coming-of-Age
Winner of the 2019 Berlin International Film Festival's Panorama Audience Award, 37 Seconds is another Japanese indie treat. This uplifting yet nuanced film combines top-notch cinematography with great storytelling to bring its unique premise to life.
Meet Yuma, age 23. When Yuma was born, she stopped breathing for 37 seconds—and lives with cerebral palsy as a result. Despite being wheelchair bound, Yuma is a talented manga artist with a thirst for life.
When she discovers her friend and employer Sayaka is taking credit for her work, Yuma resolves to craft a new route for herself by drawing manga porn. There's a slight hitch: Yuma has no sexual experience. Undeterred, she wheels herself into Tokyo's red light district. This is Japan, and experience can be bought.
As it documents Yuma's journey towards independence, 37 Seconds never descends into schmaltz. The film maintains a realistic but humorous tone. Yuma's disability isn't something to feel sorry for, it's a fact of life—her life. Sometimes her life sucks, but sometimes it's delightful, and there's an ineffably simple beauty in that.
1. Weathering With You
Japanese Title: 天気の子 | Director: Makoto Shinkai | Starring: Kotaro Daigo, Nana Mori | Genre: Anime, Sci-Fi, Drama, Romance
Topping our list of 2019's best Japanese movies is Weathering With You. Directed by renowned animator Makoto Shinkai, Weathering With You wowed both critics and audiences, who blessed it with positive reviews and massive box office earnings.
Set in a near-future Tokyo, the film focuses on two teenagers. Hokoda is a runaway, and Hina is a "sunshine girl" who has mythical powers to cast away rain. As a huge summer rainstorm bears upon Tokyo, Hokoda and Hina must balance their budding love with helping the city. It's a story that parallels humanity's current struggles with climate change.
Like Shinkai's previous movies, Weathering With You contains high quality, dream-like animations. The film excels at depicting both sunlight and shadows amidst Tokyo's cityscape. Golden sun-rays pierce through darkened city blocks in one moment, while dark rain puddles capture sharp reflections. It's a visual feast befitting Shinkai's reputation as a master animator, and contains good storytelling and social commentary to boot.
Learn more about Weathering With You in our full review.
•   •   •
Want more Japanese movies? Check out our lists of the best Japanese films from 2017 and 2018! We also have a list of the best Japanese romances of recent memory.