Since 2015, a new generation of Hong Kong filmmakers has emerged. Their films, backed by government or private schemes for neophyte filmmakers, counteract the crime or action blockbusters made by veterans with Chinese studios, by focusing on the lives of local, ordinary citizens. One of these films is Tracey (2018), director Jun Li's feature debut, and the first Hong Kong film with a trans protagonist. With his new film Drifting, Li asserts himself as a major talent to watch, deserving of all the media attention and hype he got three years ago.
Based on a true court case, Drifting chronicles the lives of homeless people in Sham Shui Po, the lowest-income district in Hong Kong. Regularly evicted by authorities from the streets, they unwillingly live a life of constant nomadism. One day, they decide to sue the government for damages they endured during a street sweep. Drifting might be too much poverty porn for some, but its razor-sharp analysis of contemporary Hong Kong and focus on camaraderie inspire hope in a city desperately in need of some.
Poverty Porn… or Not?
The first act of Drifting might be too much to bear for some. Fai (Francis Ng) is released from prison, only for his friends to welcome him back with a "treat" of heroin. The police then come knocking with an unwarned eviction. Fai and his friends seem stuck in a bottomless cycle, and the film doesn't refrain from wallowing in their misery. Chinese co-productions director Cheang Pou-soi recently complained about Hong Kong's new wave of films being poverty porn; while his comments weren't exactly helpful, he might've had a point there.
But hope arrives to those who wait. Fai and his friends fight not just for compensation, but also their dignity. Drifting reminds HongKongers not to easily give in to financial sweets, but to hold onto their values, even if that comes at an expensive price. The film's fiery ending might be too nihilistic to some, but any HongKonger would recognize its reference to these iconic images of 2019.
Land Problems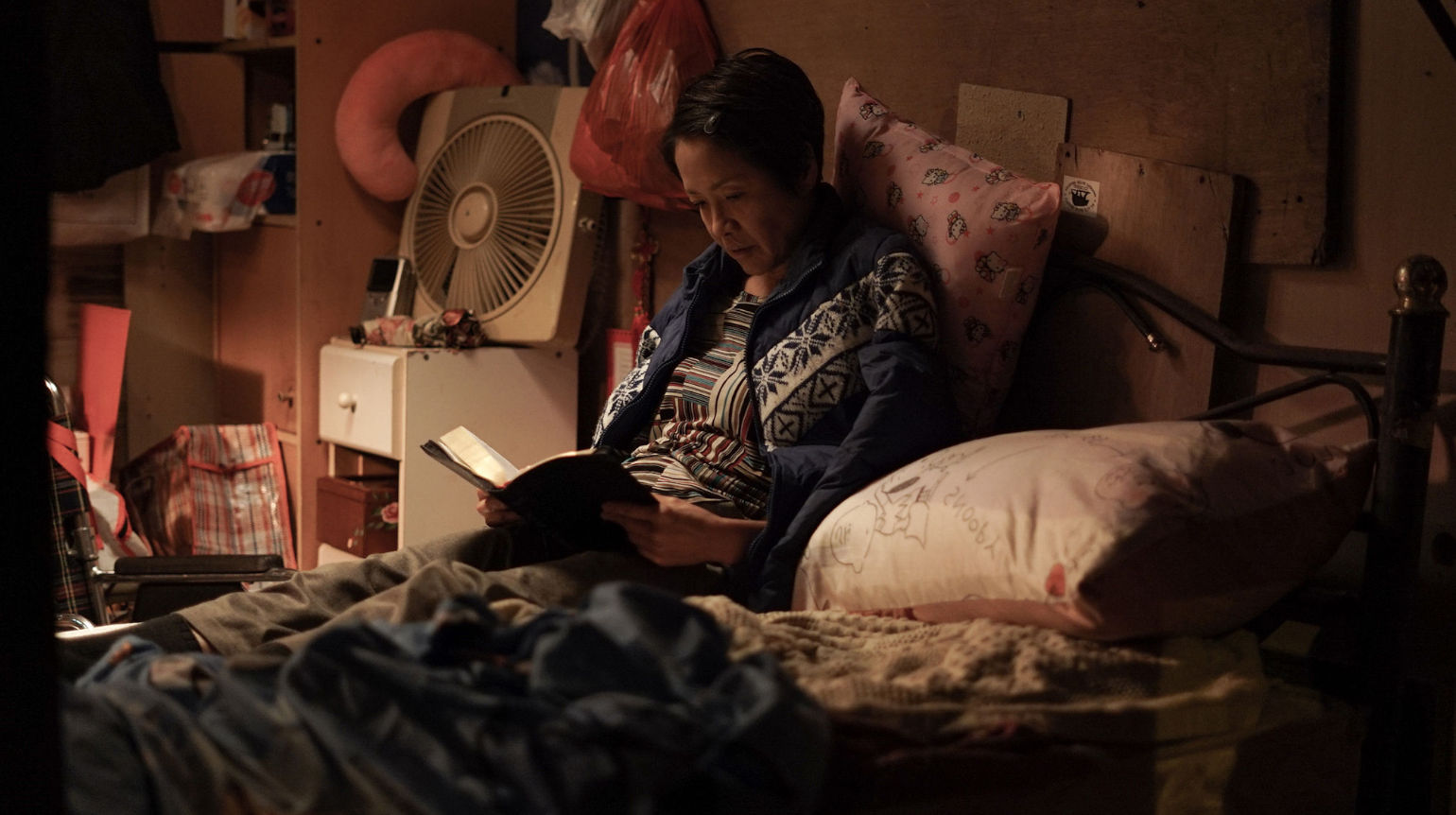 Even if Drifting is dark and depressing, is that not the reality of living in Hong Kong post-2019? In Drifting, the antagonists are an unreasonable police force and a government which bullies its citizens in court—tragically familiar to HongKongers nowadays. Unrelated to, but made during the protests of 2019, Drifting is one of the first narrative features to accurately capture the social climate of living in Hong Kong today. The film not only offers soundbites like "the government should apologize for its wrongdoings!", but also sociopolitical analysis that goes deeper.
Drifting gets it right: the problems of Hong Kong stem from class, property, and land. The characters' predicaments originate from Hong Kong's fundamental insufficiency of developable land and the ruling class' monopoly of resources. Drifting explicitly confronts gentrification: a term that might sound foreign to HongKongers, but a process that has shaped the city for decades. Drifting calls out the enemy by name: the government and the property tycoon overlords (地產霸權, lit. "real estate hegemony").
For cinema, stating those ideas isn't enough; Li inextricably links them to the audiovisuals of his film. The opening credits play over low-angle tracking shots of Hong Kong's skyscrapers—not those that tourists gawk at in Central, but in Sham Shui Po's adjacent residential areas. These shots construct a sky-high prison of bay windows and tiny balconies, announcing simply: this is a film about the city.
Shot by Leung Ming-kai (co-director of last year's popular omnibus Memories to Choke On, Drinks to Wash Them Down), Drifting seeks not to glamorize Hong Kong's architecture through beauty shots, but to reveal its sharp edges and diagonals. A montage after the midpoint tries too hard at arthouse poeticism, but the film's playful use of orange-and-teal still marks a new aesthetic high for this current wave of Hong Kong cinema. Indie musician Hinyan Wong's (composer of Mad World, one of the most notable films of this current wave) dissonant rumble once again refrains from heartstrings-tugging, showcasing Li's aesthetic taste.
HongKongers Assemble
But what defines a city isn't its pretty buildings and landscapes; it's its people and their spirit. Drifting is a true ensemble film. Li, in a post-screening interview, humbly called his film "very traditional," but Drifting just tracks the lives of a group of people, in lieu of traditional three-act structures. The only plot in Drifting is the court case, which is an afterthought for half of the runtime.
That would only work if its group is constantly fascinating. Li has assembled an eclectic and diverse team of actors. Their leader is Francis Ng, the actor most overdue for a Best Actor from the Hong Kong Film Awards. But this might be another snub for him, for he puts on too many tics and fidgets; it's the supporting cast who truly impress. In a film industry with a dearth of new movie stars, it's a continued blessing to see Cecilia Choi (star of box office surprises Detention and Beyond the Dream) rack up roles, even though she needs to keep working on her Cantonese. Li smartly gives music video heartthrob Will Or few lines to say, instead using Or's physical charisma in a maturely sensual scene—Li's Cambridge gender studies degree at work here. But the standout is Chu Pak-hong, whose unkempt addict is an unrecognizable reversal of his seemingly ideal husband in last year's My Prince Edward. With the long-awaited return of Loletta Lee and addition of indispensable ethnic minority actors, Li completes a canvas of old and new faces, forming a truly meaningful ensemble.
What takes Li's work to an even higher level is the material he gives them. Li does not shy away from the city of animosity that Hong Kong often is. The cast demean, quarrel, and hold grudges. They have some differences too fundamental to resolve, but that's okay. Li doesn't pretend that there are sappy "BBQ" endings for HongKongers in 2021.
Despite that, dim light is found when people sing and bond; community and camaraderie are the only things that emit ephemeral hope in the hellhole of these characters' lives. With names like Leung, Wong, and co-editor Heiward Mak (director of Fagara), that fraternity is exemplified behind the scenes: a small, yet solid network of young Hong Kong filmmakers is materializing.
A Wave Is Born
This new blood is still very green, and many of their films have their share of problems, like stylistic distastefulness and didacticism. Li's own Tracey is beleaguered by screaming melodrama, but he's gotten rid of these problems in his sophomore outing. Older audiences might see a connection with Cageman and Ann Hui's Ordinary Heroes, but Drifting can also form an informal trilogy with Mad World and Still Human: films about the dire living conditions of poverty-stricken HongKongers today. 
Contrary to critics who consider films like Drifting "poverty porn", these films show artistic promise. Drifting in particular shows a rare Hong Kong director in touch with the dark experiences of the public, carrying a message of hope they want and need to hear.
•  •  •
---
Drifting (Chinese: 濁水漂流)—Hong Kong. Dialog in Cantonese and Vietnamese. Directed by Jun Li. First released 2021. Running time 1hr 52min. Starring Francis Ng, Loletta Lee, Tse Kwan-ho, Chu Pak-hong, Cecilia Choi, Will Or.
Drifting screened at the 2021 International Film Festival Rotterdam.